Coalition to Try Referendum Route to Reverse Barrio Logan Zoning Change
Wednesday, September 25, 2013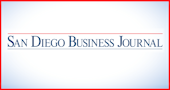 A coalition of maritime industry representatives says it will pursue a referendum to reverse the City Council's Sept. 17 decision to rezone Barrio Logan.
Executives from the maritime industry say they will face stricter land-use rules under the Barrio Logan Community Plan Update, which attempts to separate housing from industrial sites. Some say the new plan will increase pressure on maritime subcontractors to leave Barrio Logan.
The Protect Our Jobs coalition said it will begin gathering signatures in early October, and that it will have 30 days to collect approximately 34,000 valid signatures.
If the coalition collects enough signatures, the matter will return to the City Council, which will have the option to reverse the decision. If the council declines, the issue would go to the voters. A coalition spokesman said the measure could appear on the June 2014 ballot.
The coalition includes the major shipyards and the Port of San Diego Ship Repair Association as well as the San Diego Regional Chamber of Commerce, the San Diego Regional Economic Development Corp. and two labor unions.
— Brad Graves