Transit District Adds Amtrak Trains to Coaster Service
Tuesday, September 24, 2013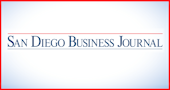 Six of Amtrak's Pacific Surfliner passenger trains will begin serving the region's eight Coaster stations beginning Oct. 7, under an agreement reached recently among the North County Transit District, Caltrans and Amtrak.
The Surfliner trains will fill some gaps in the current Coaster schedule and give customers more choices and flexibility for trips, said Nick Freeman, deputy chief operating officer with the transit district.
Three northbound and three southbound Pacific Surfliner trains will stop at all of the Coaster stations, seven days a week, officials of the Oceanside-based transit district said . Coaster passengers will be able to ride the selected Amtrak trains at no additional charge between Oceanside and San Diego, by presenting a valid Coaster fare.
The Surfliner trains will operate Monday through Sunday, except for portions of Thanksgiving week and opening week for the Del Mar Races. Schedules and other information are at GoNCTD.com/Coaster or AmtrakCalifornia.com.
— SDBJ Staff Report