ImageWare Receives Federal Contract For Iris Recognition System
Tuesday, September 24, 2013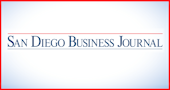 ImageWare Systems Inc., a maker of biometric identity management software, was awarded a contract for software and services from an undisclosed federal agency to implement iris recognition systems for 20 state and local law enforcement agencies.
The amount and terms of the contract were not disclosed.
Acting as a subcontractor to Iris ID, ImageWare (OTCQB: IWSY) said it will supply its software to the agencies in a one-year federally sponsored pilot program that will be evaluating an iris recognition identity system primarily at correction facilities.
CEO Jim Miller said ImageWare is providing solutions that are in compliance with U.S. government standards, serve as a working model for commercial sector standards and adoption.
— SDBJ Staff Report