TRANSPORT: INITIAL PHASES TO FOCUS ON AVIATION, CARGO
Otay Could Take Off With Proposed Airpark
Monday, September 23, 2013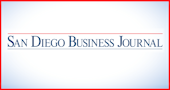 City planners and developers are looking to jump-start a previously proposed multimillion-dollar redevelopment — stalled by the recession — that would significantly boost aviation facilities and related commercial amenities at Brown Field Municipal Airport in Otay Mesa.
The San Diego City Council is scheduled in early October to discuss the latest plans for Metropolitan Airpark, a four-phase development that would cover about 331 acres at the city-owned facility near the U.S.-Mexico border. Proponents say the location would help create a more vibrant business climate as the cross-border economy continues to improve in coming years.
The city has projected the development would generate $11 million in gross revenue in the first five years and $619 million over 20 years. City officials' priorities for the project include alleviating high unemployment in the border region through the development of large, labor-intensive industrial parks.
Highways, border crossings and other infrastructure in the Otay Mesa region have been improved during the past five years such that the area would be more amenable to truck traffic serving companies on both sides of the border, said John Fisher, development project manager with the city's Development Services Department.
"The idea is to make this something bigger for the city and the overall region," Fisher said.
The city has been in talks on the project with Brown Field International Business Park LLC, which includes Carlsbad-based Distinctive Projects Co., led by developer Richard Lee Sax.
Company officials could not be reached for comment on the project, which was described by proponents as a $500 million mixed-use development the last time it was formally reviewed by the city in 2008. The city has long been looking to develop what it considers an underutilized, 880-acre airfield, located 1.5 miles north of the border and less than 2 miles from Tijuana International Airport.
Four Phases
The project would likely span four phases over the next 20 years, Fisher said, with initial development primarily focused on aviation services geared toward private aircraft and commercial cargo operators. Future phases would add hotels, restaurants and other facilities to serve airport users and others in the surrounding business community.
The first phase of the proposed development includes a 116,875-square-foot jet fixed-base operator facility with an 11,000-square-foot restaurant, according to a city staff report. There would also be 10 large aircraft hangars, 45 small-aircraft hangars, solar-powered storage facilities and a helicopter facility that would include space for a local aviation hub for the San Diego Fire Department or some other public agency.
The airpark project has received preliminary go-aheads from city planning boards and next requires approvals from the City Council, as well as state and regional environmental agencies.
Museum Space
The second phase would have 61 more small-aircraft hangars and a proposed 180,000-square-foot new location for San Diego Air & Space Museum, currently at Balboa Park. That phase also includes an alternative-fuels station and a 150-room business hotel.
The final two phases would add components including a 120-room business hotel, 64 more aircraft hangars, more than 700,000 square feet of light industrial development, 200,000 square feet of other commercial development, and a total of 300,000 square feet in expansions to the Air & Space Museum.
Brown Field was opened in 1918 and acquired by the city in 1962. It operates as a general aviation airport and port of entry for private aircraft.
The city selected the current developers from among six who submitted plans following a request for proposals. Officials said the project was delayed by issues in obtaining construction financing as the economy soured in 2008.
Sax's company has developed fixed-base operator facilities at the county-run McClellan-Palomar Airport in Carlsbad.