PROPERTY: CHULA VISTA SEES BIG DEVELOPMENT AS JOB CREATOR
Millenia Also Creates Homes for Businesses
Monday, September 23, 2013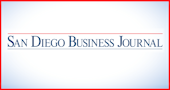 By mid-2014, the first buildings should be sprouting in The Corky McMillin Cos.' long discussed Millenia mixed-use development in eastern Chula Vista, expected to include up to 3,000 residential units as it's built out over the next 20 years.
McMillin Cos. partnered in 2011 with investor Stratford Land of Dallas to move the project forward after nearly a decade of planning. As master developer, McMillin envisions a finished product resembling an urban village along the lines of University Towne Center, with commercial amenities within walking distance of homes and offices, though without vehicle-strewn thoroughfares running through the middle of it.
With office, retail and hotel elements in future phases, the project is also seen by the city of Chula Vista as a key piece of plans to move the city beyond a bedroom community, bringing in job-creating businesses to employ a residential base that has been among the fastest growing in the nation.
"The housing market is improving in South County, and the housing construction financing climate overall has been thawing," said Todd Galarneau, senior vice president with San Diego-
based McMillin Cos., discussing the project's recent momentum.
A formal groundbreaking ceremony is planned by month's end, and Galarneau noted that grading equipment is already in motion on the 210-acre site.
The first project to be completed will be a 270-unit apartment complex being developed on 10 acres by Fairfield Residential Co. LLC of San Diego.
Work on the apartments is expected to begin in early 2014, with the first units to be completed by year's end or early 2015. By mid-2014, McMillin Cos. plans to begin work on its own 215-unit condo development, called Genesis, on a nearby parcel.
Genesis will be targeted to young, entry-level homebuyers, with unit prices starting in the high $200,000s.
"It's generally the kind of product that hasn't been offered that much in the South County area," Galarneau said.
Millenia at completion would represent an investment of about $4 billion by McMillin and other on-site residential and commercial developers.
Retail Ready to Follow Rooftops
Once the first apartments and condos have been occupied, Sudberry Properties of San Diego will be completing a new gateway retail center to serve the development, with talks underway with several potential tenants, Galarneau said.
And after the first 30 acres of residential development are built, the next phase would likely include office and hotel elements, for which McMillin in talks with several development companies. Galarneau said the first hotel would likely be a limited-service property to serve local businesses and residents, and the office developer will be scouting for companies looking to locate in a low- to mid-rise headquarters campus setting.
Eastern Chula Vista has seen considerable commercial and residential growth in the past decade. In the past 15 years, several builders have developed and sold thousands of homes in the Otay Ranch master-planned community of southeastern Chula Vista, south of the Millenia site. Those homes were followed by the Otay Ranch Town Center regional mall and other retail and apartment developments.
As a result, Forbes magazine recently ranked Chula Vista as the nation's
second-fastest growing city during the recession, with its population up 17.7 percent since 2007. Its population was just under 244,000 as of the 2010 Census, making it the 14th-largest city in California.
The Right Site
Economist Alan Nevin noted that plans by multiple developers for Villages 8 and 9 in Otay Ranch are expected to add another 3,000 homes to the city, starting in 2015. He said Millenia is well-poised to capitalize on surrounding development in Chula Vista, provided it can supply homes that are priced to meet local buyers' demographics.
Attached townhomes have sold quickly in Chula Vista and elsewhere in San Diego County, he said.
"The site that McMillin has selected is a very good location," said Nevin, director of economic and market research at consulting firm Xpera Group in Solana Beach. "Chula Vista is about the last place left in San Diego County with available land for developments this size."
Diversify on Chula Vista's Mind
Chula Vista has other long-term planning in the works to diversify its economy and employment base. It is working, for instance, with the Port of San Diego to develop its western bay-front region with future condos, apartments, hotels, and other commercial and recreational amenities, aimed at making it a destination city.
Not far from the Millenia site, Otay Land Co., led by HomeFed Corp. of Carlsbad, is working with the city of Chula Vista to acquire land for its long-discussed University District. The city is looking to attract a branch campus of a community college, or a public or private university, to a district that would span about 375 acres, Mayor Cheryl Cox said.
Millenia, if hotel and office elements fall into place, represents another piece of the puzzle in diversifying the city's economy, Cox said. Another involves capitalizing on increasing cross-border trade with Mexico in an improving economy, taking advantage of recent improvements to border crossing points and local roadways including state Route 125.
Many new Chula Vista residents in coming years will be heading south of the border to work, not just northward to San Diego.
"This is the first of these long-planned developments to move forward," Cox said of Millenia. "We also need to make sure we have some of our own new jobs in place for the people who decide to live here."