HP Investors Teams Up With Clarion Partners for $48.5M Gaslamp Acquisition
Monday, September 23, 2013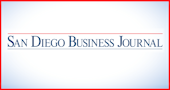 A joint venture by San Diego-based HP Investors LLC. and Clarion Partners LLC of New York City has acquired an interest in the retail and commercial parking portion of the mixed-use Gaslamp City Square in the Gaslamp Quarter.
The companies did not announce the price, but the transaction was valued at $48.5 million, according to CoStar Group and public data.
The seller in the deal was Champion Real Estate Co. of Los Angeles. The transaction included the 54,773-square-foot retail portion of the development, located at 402-450 Fifth Ave. at J Street, as well as a dedicated parking garage with more than 250 spaces.
Tenants in the development include national and regional store and restaurant chains, such as Quicksilver, Oceanaire and G-Star. Real estate services provider HFF represented the seller, and Urban California represented the buyers.
Gaslamp City Square, which occupies a full city block, was developed in 2004 and has residential condominiums that were not included in the deal. Sumeet Parekh, a principal at HP Investors, said the transaction marks the local company's sixth downtown acquisition in the past 18 months.
Clarion Partners is a real estate investment manager with offices in the U.S., Mexico, South America and Europe. The company said it has more than $28 billion in assets under management, including more than 2.5 million square feet of properties in San Diego.
— SDBJ Staff Report