Soitec to Develop Power Plant for Defense Department; Solar Modules to Be Built Locally
Thursday, September 19, 2013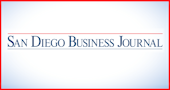 Soitec Solar Development LLC, a French solar power company with a manufacturing plant in San Diego, has signed a contract with the U.S. Department of Defense to develop a power plant that will provide energy to a military training center at Fort Irwin.
Financial terms of the contract were not disclosed, a Soitec spokeswoman said.
The energy that will be produced at the plant will come from solar modules built in San Diego. Project planning is underway, and construction is scheduled to be completed in 2014, Soitec said.
Of the 468 proposals sent to the DoD, Soitec was one of 22 selected to demonstrate emerging energy and water technologies on military installations through the DoD's Installation Energy Test Bed initiative.
-Meghana Keshavan