'Hiring Our Heroes' Job Fair Set for Sept. 19
Wednesday, September 18, 2013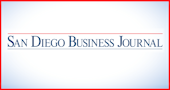 More than 90 employers are participating in a Hiring Our Heroes job fair at Camp Pendleton Sept. 19 that will feature Medal of Honor recipient Sgt. Dakota Meyer.
Sgt. Meyer and leaders from the U.S. military and business community will take part in a casual networking event with veterans, service members, and military spouses at the Pacific Views Event Center the evening before the fair, Sept. 18, starting at 6 p.m.
According to an announcement from the U.S. Chamber of Commerce, job fair participants range from the nation's biggest employers to dozens of small companies. Sgt. Meyer along with other speakers will address job seekers at the beginning of the fair, scheduled for 10 a.m.
The lead sponsors for the job fair are Toyota and the University of Phoenix. Interested job seekers should register for free at hoh.greatjob.net, but walk-in job seekers are welcome.
SDBJ Staff Report