San Diego Median House Price Is $415,000 for August
Friday, September 13, 2013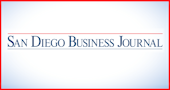 San Diego's median housing price declined by $2,000 in August but was still well above the median price for the six-county Southern California median price at $415,000. Over the 12 months from August 2012, San Diego's median price has risen 20.2 percent, according to the latest report from Dataquick, the La Jolla real estate research firm.
For the entire Southern California region, the median price increased 24.6 percent to $385,000 over the 12 months to August. That median remained flat from both June and July.
Home sales in the region were the highest for an August in seven years and marked by stronger activity in sales of houses above $300,000, Dataquick said.
In San Diego, total housing sales last month were 4,099, up 3 percent from August 2012.
A steady increase in housing prices has resulted in more properties being put up for sale, and fewer cash purchases, Dataquick said.
Cash buyers made up 27.6 percent of total transactions last month compared with 30 percent in July and 32 percent in August 2012.
Sales in the $300,000 to $800,000 market, a range that includes most move-up buyers, rose 31 percent year-over-year in the Southern California region. Houses that sold for more than $500,000 jumped 49 percent from the prior year's August, Dataquick said.
All lenders combined advanced $6.36 billion in funds to SoCal homebuyers in August, down from $6.52 billion in July, but up from $5.45 billion provided in July 2012.
The most active lenders last month were Wells Fargo Bank with 7.8 percent of the purchase market; Bank of America with 2.8 percent, and imortgage with 2.6 percent, Dataquick said.
— SDBJ Staff Report