PROJECTS, DEVELOPMENTS AND OTHER ACTIVITY IN CITIES IN AND AROUND SAN DIEGO COUNTY
Real Estate Roundup
Monday, September 9, 2013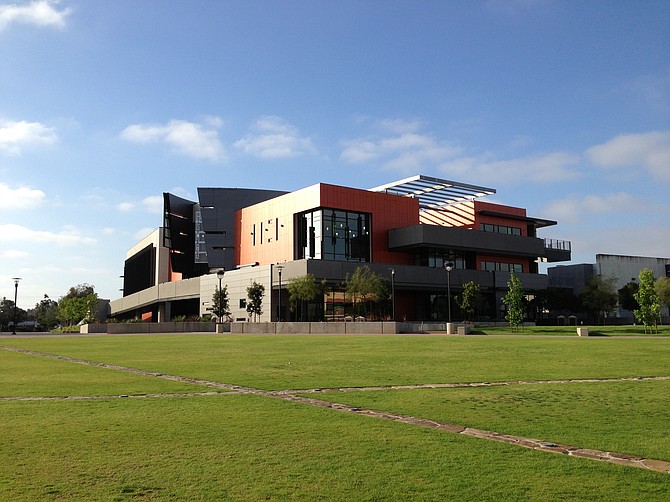 New Student Center At Miramar College Opens
A grand opening was held recently for the new student services center and cafeteria/bookstore at San Diego Miramar College, the latest San Diego Community College District project funded by Propositions S and N. The three-story, $39.5 million, 76,000-gross-square-foot building provides student services on campus for the first time in college history, including admissions, counseling, financial aid, disability support programs and services, Veteran Affairs, student activities, and Extended Opportunities programs and services. The facility also includes a bookstore, cafeteria, espresso bar and convenience store, as well as student club space and gathering areas. For nearly 45 years, student services offices, cafeteria and bookstore were housed in WW II-era bungalows. The building is on track to obtain a Leadership in Energy and Environmental Design silver certification by the U.S. Green Building Council, one of 41 planned or already awarded within the district.
SR Commercial Acquires Two Industrial Properties
SR Commercial has acquired two industrial properties with a combined 82,470 square feet in Southern California, adding a total of $60 million to its portfolio in the last 24 months, according to CJ Stos, a principal of SR Commercial.
The San Diego County property is a 19,344-square-foot, multitenant industrial property at 8662 Avenida De La Fuente in the South Otay Mesa Business Park in San Diego. The deal was all cash for $1.6 million.
Mike Erwin of Colliers represented the firm as the buyer in the transaction. The seller, a private investor, was represented by Regan Tully of Cassidy Turley.
The property has 16 units ranging from 920 square feet to 1,224 square feet with office space and private restrooms, 15- to 18-foot warehouse clear height, a shared truck well and grade-level loading.
The inland empire acquisition is a 63,126-square-foot industrial building at 42259 Rio Nedo in Temecula for $2.8 million. SR Commercial was represented by Rob Gunness and Scott Stewart of CBRE Inc. in the transaction. The seller, a private investor, was represented by Charles Black and Michael Strode of Lee & Associates.
Brookfield Announces Pre-Sale of Carlsbad Homes
Brookfield Residential has released the first phase of homes for sale at Palo Verde, its new Carlsbad neighborhood. The Foothills, Palo Verde is a master-planned community and is scheduled to open Nov. 2.
The homes are detached, single-family homes with single-level and two-story floor plans including three- to five-bedrooms with 2.5 to 4.5 baths and two-car garages plus storage. The square footage ranges from 1,989 to 3,725 square feet. The homes are priced from the $700,000s to $800,000s.
12 Units in North Park Sold for $2,575,000
ACI Apartments announced the recent sale of a 12-unit complex in North Park. The 10,857-square-foot property at 3846-50 35th St. was bought as part of a 1031 exchange by Loginovs A LLC for $2,575,000.

The seller, Amrish Goel Trust B, was represented by Chris Siedenburg of ACI Apartments. Norm Root of ACI Apartments represented the buyer. Chase Bank provided the buyers with a loan of $1,900,000. Escrow was handled by Teresa McElaney, and title was handled by Jaime Nalley, both with Chicago Title Co.
This investment property is south of University Avenue between Swift Avenue and Nile Street. Built in 1988, this complex has four 2-bedroom/2-bath and eight 3-bedroom/2-bath units. The property is 1980s construction with 12 garages. The gross rent multiplier is 10.82, while the cap rate is 5.71 percent.
La Mesa Office Building Sells for $2,230,000
The San Diego office of Colliers International sold an approximately 9,935-square-foot office building at 7051 Alvarado Road in La Mesa for $2,230,000.
The seller, Alvarado Building LLC, was represented by Derek Hulse and Derek Applbaum of Colliers International.
Downtown Retail Property Sells for $2,450,000
Cushman & Wakefield announced the sale of Atria on Market at 101 Market St. in Downtown San Diego to Steven Schorr for $2,450,000. Bill Shrader, David Maxwell and Joe Brady of Cushman & Wakefields' Urban Property Group represented the seller, Torchlight Investors. The buyer represented himself.
The 11,261-square-foot retail property is in the Marina district of Downtown across from Ralph's supermarket.

18 Units in North Park Sold for $1,950,000
ACI Apartments announced the recent sale of an 18-unit complex in North Park. The 11,400-square-foot property at 3864 35th St. was bought by Old Town Holdings Corp. for $1,950,000 as part of a 1031 exchange.

The seller, Las Palmas on 35th LLC, was represented by Dave Savage of ACI Apartments.