NEWS AND NOTES FROM COMMUNITIES AROUND SAN DIEGO COUNTY
Regional Report
Monday, September 2, 2013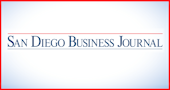 POWAY
Electronics Distributor to Handle Local Co.'s Products
Minnesota-based Digi-Key Corp. says it will distribute products from locally based Visual Communications Co. LLC.
Poway-based VCC makes indicator lights — both incandescent and light-emitting diode, or LED — for computers and other machines. The firm is credited with developing and manufacturing an innovative LED light pipe.
VCC serves the aerospace, medical, automotive, transportation and safety markets. It recently acquired a company called Chicago Miniature Lamp.
The Poway company took the No. 8 spot on the San Diego Business Journal's most recent Fast 100 list, which highlights fast-growing private companies. VCC had revenue of $10.4 million in 2012, up 256 percent from 2010. It has 26 employees. Andrew Zanelli is its CEO.
Digi-Key is in Thief River Falls, Minn. The electronics distributor boasts more than 3 million products.
— Brad Graves
SANTEE
Wings N' Things Opens 15th Location
Wings N' Things, a chain offering Buffalo chicken wings and based in San Diego, announced it's opening a new location here at the Marketplace at Santee in the 9300 block of Mission Gorge Road.
The new store will be the 15th since the business was launched in 1982. The new location is in a strip mall anchored by Sprouts Farmers Market LLC and has several other restaurants including those offering Japanese and Mexican cuisine.
— Mike Allen
OCEANSIDE
El Pollo Loco Opens 25th Local Restaurant
Costa Mesa-based El Pollo Loco has opened its 25th Mexican-style chicken restaurant in San Diego County at 3500 College Blvd. in Oceanside. The new 2,650-square-foot eatery employs 35.
The company said this is its second location in Oceanside and the 23rd owned and operated by Peg/Lion LLC. The franchise company, with headquarters in Oceanside, is the second-largest franchisee in the El Pollo Loco system.
The quick-service El Pollo Loco has nearly 400 company-owned and franchised restaurants in California and four other states, serving marinated chicken, fresh hand-made salsas and related items.
— Lou Hirsh
SAN DIEGO
Salient to Help Train Royal Saudi Air Force
Virginia-based Salient Federal Solutions, which has an office in San Diego, said it received a subcontract to Jacksonville, Fla.-based Merlin RAMCo Inc. that could be worth as much as $4.4 million over 18 months if the client exercises an option period.
Under the contract, Salient will provide instructors to train members of the Royal Saudi Air Force on unspecified technology. Work done through the U.S. Air Force Air Education Training Command and Security Assistance Training Squadron will help modernize the Saudi air force, the company said.
Recruiting support, executive management and administrative functions will be handled by Salient's San Diego office, a company representative said.
— Brad Graves
OCEANSIDE
Apartment Complex Sells for $7.49 Million
Koyl Real Estate Ventures of Placentia bought Hillside Gardens, a 58-unit apartment property in Oceanside, for $7.49 million, according to Marcus & Millichap Real Estate Investment Services, which represented the buyer and seller.
The seller of the property, at 504-534 Greenbrier Drive, was MG Properties Group of San Diego. The apartments were constructed on 1.7 acres in 1971.
Marcus & Millichap also assisted MG Properties in an earlier sale of an adjacent 44-unit apartment complex on Greenbrier Drive.
— Lou Hirsh
CHULA VISTA
Youngevity Acquires Assets Of Utah Publishing Firm
Youngevity Essential Life Sciences, a direct subsidiary of Youngevity International Inc., said it has agreed to acquire certain assets and liabilities of Heritage Makers, a Utah self-publishing business, for an undisclosed price.
Under the arrangement, Heritage Makers' distributors and clients gain access to more than 500 products offered by Youngevity, including nutritional products, sports and energy drinks, and gourmet coffee.
In July, Youngevity, changed its name from AL International. The company's stock is traded on the over the counter markets under the ticker YGYI.
— Mike Allen