FINANCE: BANKS HELP AFFECTED WORKERS IN THEIR JOB SEARCHES
Mortgage Activity Downturn Leads to Layoffs
Monday, September 2, 2013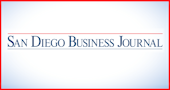 The two national megabanks that recently notified about 800 people in San Diego that their jobs will be eliminated are providing internal and external job placement services to help affected employees find new jobs.
In August, JPMorgan Chase & Co. and Wells Fargo & Co. notified employees working in their mortgage processing units, where activity level isn't reflective of the overall recovery in the housing sector, that their jobs would end in 60 days. For Chase (NYSE: JPM), the cuts affect 730 local workers and involve closing two offices, while 87 workers at Wells Fargo (NYSE: WFC) were notified.
Both banks said a significant decline in mortgage activity was the cause behind the reduction in staffing.
"This is the result of less mortgage refinancing demand starting last year and into the first half of this year," said Tom Goyda, a spokesman for Wells Fargo in St. Louis.
Chase said the cuts were part of a nationwide reduction of 15,000 workers primarily in its mortgage servicing unit. The great majority of the affected employees were hired to work with borrowers who fell behind on their monthly mortgage payments, or were involved in modifying mortgage terms, Chase spokeswoman Suzanne Ryan said.
Career Services
New York-based Chase, which employs about 2,300 people in San Diego County and more than 20,000 in California, said it is providing outplacement career services with an outside firm — it declined to disclose — for up to one year. It's also holding courses to help workers improve skills such as interviewing and resume writing.
Outplacement programs provided by Chase have resulted in some 7,000 workers finding new jobs within the bank, Ryan said.
Workers at Wells Fargo who are unable to find jobs after the 60-day period ends will receive some severance depending on their length of service and job category, said Goyda, who declined to provide the average severance or the average annual salary of a mortgage processor.
The 87 Wells Fargo workers given pink slips in San Diego account for about 3 percent of the bank's countywide workforce of 3,200, spokeswoman Amy Savicky-Injaian said, adding that the bank had 17 current job openings within the county and about 7,600 openings nationwide.
"Though mortgage is scaling back, other areas of Wells Fargo are growing," she said.
Real Estate Warming Not For All
The surge of layoffs in finance contrasts to a generally recovering local housing market in recent years evidenced by higher sales and increased prices, said Kelly Cunningham, chief economist for National University System Institute for Policy Research.
During the recession, San Diego lost some 13,000 jobs in financial services, yet it's added about 3,900 jobs in this sector since 2010, mostly fueled by an improving real estate market, Cunningham said.
However, because so many home sales involve cash investors, lenders may be benefiting less from the uptick than other players in real estate, he said.
"The San Diego housing market is revving up, but it's not organic, and much of it is investor-driven," Cunningham said.
George Hawkins, chief executive officer at Bexil American Mortgage in San Diego, said all mortgage lenders have been affected by the refinancing downturn.
Last year, refis made up about 85 percent of his firm's total volume, while this year it's about 40 percent and falling, Hawkins said.
"We and other lenders are adjusting to the purchase market now to attract borrowers," he said. "It's more difficult because of the time constraints involved and all the coordination."
The privately-held mortgage lender uses mortgage brokers to obtain its customers. Founded last year, Bexil American has plans to open retail offices to make direct mortgages, but that may occur until the first quarter of 2014, Hawkins said.
Ready to Respond to Demand
Goyda couldn't predict whether Wells Fargo would make further cuts to its operations should the mortgage activity show additional declines.
"We're obviously always looking at the market environment and business demand and are prepared to respond," he said.
In 2010 and 2011, Wells Fargo conducted national and local staffing cuts. In 2010, it laid off about 3,800 people as a result of closing about 600 branches nationally, including 12 in San Diego County. In 2011, Wells conducted a companywide restructuring affecting some 1,900 workers, including about 170 in the county, mainly mortgage processing personnel.
While losing a job can be jarring, the overall forecast for the financial and accounting sector is for continued growth, said Seth Stein, president of the Eastridge Group, a San Diego staffing firm.
From a random sampling of unemployed mortgage workers registered with his firm, 42 percent found work in financial services, and 28 percent found work in similar fields.
"The fact that 70 percent were able to stay in their field or a related one should give optimism to people who have been affected by these layoffs," Stein said.