ECONOMY: RECESSION A POSSIBILITY AS MILITARY CUTS HIT HARD IN REGION
Economist Sees Sequestration Damaging the Local Economy
Monday, October 28, 2013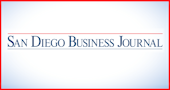 San Diego's economy is in danger of falling back into a recession as a result of higher federal government cuts that will occur next year, said Kelly Cunningham, the economist with National University System Institute for Policy Research.
"I'm not saying a recession will happen, but the chances are pretty high of it happening in 2014," Cunningham said.
The increased employment cuts are the result of automatic reductions to the federal budget that began this year known as sequestration and will have more of an impact on the defense industry, he said.
"The cuts that the federal agencies did this year were the easy ones," Cunningham said. "But starting this fiscal year (which began Oct.1) we're going to start to see real cuts."
Weak Growth Estimate
Using a variety of economic data, Cunningham estimated the region's gross domestic product will grow 1.8 percent this year to $185.4 billion.
He's not feeling too confident about growth next year. Because so much of the region's business is linked to the military, sequestration could cause the economy to contract, he said.
A recent study from the San Diego Military Advisory Council found direct military and indirect military spending accounted for about 302,000 jobs or 22 percent of San Diego's total employment in 2012. "The military impacts just about every sector of San Diego's economy. It impacts real estate, retail trade, everything," Cunningham said.
The same SDMAC report forecast that direct military spending may decline moderately next year, and result in the loss of 7,000 jobs. That would bring the total defense-related employment here to 295,000.
San Diego's overall industry employment (excluding self-employed people) as of August grew year over year by 14,800 jobs, which was well below the 21,000 number Cunningham had forecast in January.
While the region's unemployment rate has been trending down for most of this year, and stood at 7.4 percent in August, compared with 9.2 percent in the prior year's August, the number is deceptive, he said.
A big factor for that decline is more eligible workers are dropping out of the workforce, Cunningham said. As unemployment benefits run out, and people get frustrated about the lack of jobs, they stop looking, and aren't counted in the official number, he said.
Alan Gin, an economics professor at the University of San Diego, said job growth was relatively good earlier this year but has since slowed considerably, probably due to sequestration and the turmoil surrounding the government shutdown.
The Chance of Recession?
As to the chance the economy could fall into recession, Gin said the chances have increased, yet the probability isn't that high. "It's not more than 50 percent," he said.
Cunningham said the age segment that's taking the biggest hit from the still plodding economy is 30- to 44-year-olds who are having a much harder time finding jobs.
From 2000 to 2012, that group declined by nearly 38,000 from the local workforce.
The population of youngsters below age 14 also decreased during that time by about 9,000. Cunningham said. The data show many younger people have relocated for better areas that have more economic prospects such as Texas, and took their children with them, he said.
"It's a bad trend," Cunningham said. "We're expecting future generations to pay off all this debt, and yet fewer of them are able to find employment."