GIVING: COMPANIES ENCOURAGE INPUT AND PARTICIPATION OF STAFF
Corporate Giving Supports Community and Employee Needs
Monday, October 28, 2013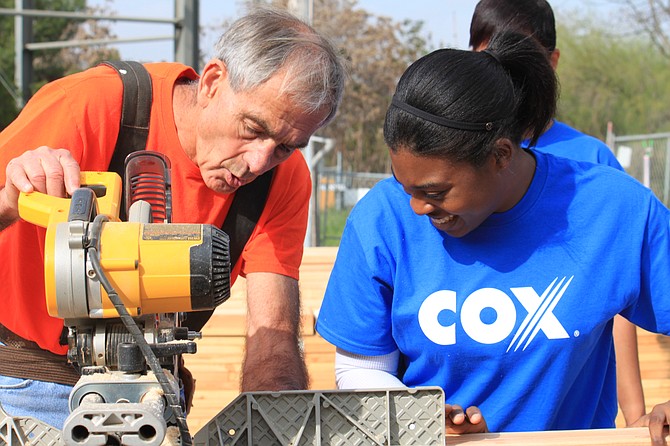 The San Diego Business Journal reached out to five of San Diego's largest employers to find out what community initiatives and programs they support. There are many other generous companies that could have been featured. These five were chosen to provide some insight into how the pros are managing their philanthropy.
San Diego Gas & Electric
"We are on an initiative-based giving model," said SDG&E spokeswoman Allison Zaragoza. The company, with just over 5,000 employees, has four big initiatives funded with $1 million each in available grants last year. Inspiring Future Leaders, the first, puts SDG&E funds and volunteers in programs that mentor students from kindergarten to 12th grade, and emphasize learning science and technology skills as well as developing strong moral character.
The Environmental Champions initiative funded groups including I Love A Clean San Diego, the Audubon Society and the San Diego River Park Foundation; while the Emergency Preparedness grants went to the Burn Institute, the American Red Cross, and to local fire safety councils. The Helping People in Need initiative translated to grants for La Maestra Community Health Centers, The Salvation Army, local food banks and Veterans Village.
"We don't just give them a check and run. We work with them," Zaragoza said. "For example, we provide company resources that they need, help with getting the word out and logistics from our people who have those skills."
Employees participate in the selection process, she said.
"Our people let us know about the groups they see in the community, the ones they want to support," she said. "Our employees love to give back and we work with groups we support to form employee volunteerism events."
SDG&E employees recently participated in Coastal Clean Up Day, for example.
"We get 100 to 200 employees at a time for these events," she said. "We also have a matching program with a new charity each month and we have challenge grants based on employee suggestions and feedback."
This October, the company has been working with the American Cancer Society and the Susan G. Komen Foundation; sponsoring informational lunches and supporting employees who are raising money to find the cure for breast cancer.
"We've helped employees set up the Pink Store online, where they're selling crafts and raising money for this great charity," Zaragoza said.
Northrop Grumman Corp.
Fresh from a corporate-sponsored walk for breast cancer awareness, Northrop Grumman spokeswoman Sudy Bruni says that the company focuses on charitable giving that either reflects the company's missions or supports its employees' causes.
"Northrop is particularly committed to education and supporting our war fighters — we've done big projects with the USO and just recently set up the USO at Lindbergh Field so our military can use Skype to connect with their families," she said. "We're very involved with Veterans Village, supporting our homeless veterans.
"We're also committed to bringing science, technology, engineering and math to the schools — a real commitment where our employees volunteer to teach at local high schools," Bruni said.
The volunteers write curriculum and pull content together for the classes that take them from work to teaching every week for a semester, she said, as part of the Kids and Industry Discovering Science initiative.
"Then the students visit our campus so we can show them hands on how the science is applied — we set up stations with projects that demonstrate the real-world application of what they've talked about in the classroom," Bruni said.
The corporation, which gave more than $22 million in charitable donations nationwide in 2012, also supported employees who gave more than 25,000 volunteer hours with more than $126,000 in community grants that the employees brought to their favorite charities. About 4,000 people work for the company in San Diego.
Apart from mission-related giving, employees have an in-house website for listing and finding volunteer opportunities — everything from Habitat for Humanity events to shoe drives, school supply drives and employees "adopting" needy families for the holidays.
"I'm very proud to work for a company that supports our community and its employees the way Northrop Grumman does," Bruni said. "We do so many things in so many places, it's hard to come up with a comprehensive list."
Cox Communications Inc.
Cox Cares is an employee funded foundation where the company matches its grants and donations, according to Cami Mattson, director of community relations. Cox has about 2,000 employees in San Diego.
"We have both corporate giving and Cox Cares, an employee foundation funded by voluntary payroll deductions that are matched one-to-one by corporate," she said. "Because employees have a voice in giving, they feel heard within the corporation."
Last year, Cox Cares gave $500,000 in donations and grants in the community, money matched by the corporation with volunteer labor added for more than a $1 million impact.
Forty Cox employees serve on the foundation board, she said. The foundation has long been partners with Rady Children's Hospital and the Make-A-Wish Foundation, but there's plenty of room for other causes. If at least five of the more than 2,000 local employees volunteer for a nonprofit, the company can provide a donation to support their efforts, she said.
"We believe and know our employees are also our neighbors and residents. We're one community and Cox is part of the community," she said. "It's one giant ecosystem of supporting each other."
Nonprofits are invited to visit the Cox campus and introduce themselves to employees, who can sign up for volunteer events.
"Cox pays employees for eight hours a year for volunteer time and everyone can manage their volunteer time as they wish," Mattson said. "Employees have helped restore watersheds, served on boards, and they can bring our assets — like public service announcements — and our support with them."
"As an employee, this means a lot to me — when you see your efforts are changing lives, and you can come together for a collective impact," Mattson said.
The Active Network
This Sorrento Valley-based company with more than 3,200 employees worldwide does all of its charitable giving — aimed at encouraging physical activities, including getting underprivileged kids into sports — with employee donations. Employees at the company raised and donated more than $290,000 for philanthropy since 2009.
Among the beneficiaries in the past two years are the Challenged Athletes Foundation, the Monarch School, and YMCA Overnight Camps. The company's employees have taken particular interest in the local nonprofit, Kids in the Game, which helps pay for kids to participate in organized sports, covering fees and other costs for young athletes.
This coming year, Active Network is taking a new approach to supporting such charities, according to Kathy Bricaud, a company spokeswoman.
"In 2014, we're launching an ACTIVEx apparel line that will be sold online," she said. "Our goal is to provide funds back to community organizations through Kids in the Game — we soft launch in 3-4 weeks."
The company's products — software tools that help organizers and participants plan, register and stay organized — include built-in donation options and streamlined giving for people who rely on it, Bricaud noted.
Harrah's Rincon
"The company has a benchmark of 1 percent of our net profits for charitable giving every year, so we plan our giving into our budget," said Sheryl Sebastian, communications and community relations manager for Harrah's Rincon. "We do a combination of cash and in-kind donations, and with the cash donations, we're always looking for a way to back it up with a volunteer opportunity."
Beneficiaries have included Angel's Depot, the American Cancer Society, Casa Familiar and the Multiple Sclerosis Society, she said.
The resort-casino recognizes its staff for their volunteer work — last year 558 employees gave nearly 20,000 hours of time to their favorite causes. With about 1,100 employees, that means more than half are active in the community.
Harrah's Rincon has a board committee that vets the potential recipients — and employees bring their favorite causes and ideas to the heroes team, Sebastian said.
"Last year, a lot of our best ideas came to us from employees, including I Love A Clean San Diego events, breast cancer awareness, Movember (Men's health awareness nonprofit) and the annual coat drive, which was a brainchild of one of the casino's slot employees.
"We tend to move our corporate support into organizations where we are involved as people," Sebastian said. In 2006, employees helped launch Angel's Depot, which provides food boxes to seniors living in poverty and they've been active every year. And employees brought Casa de Amparo, a North County shelter for women and children, to the company's attention.
"We've taken some of the Casa kids out to the beach and we bring our families to events like Coastal Clean-up Days," Sebastian said. "Things intertwine here — it makes you proud and grateful to work in an organization that values our connection to our community."
Right now, the casino is holding the Battle of the Bras in support of breast cancer awareness month. Twenty two departments decorated 22 bras that are on display in the lobby, and guests are voting on their favorites — the winners will be modeled by two local Playboy Playmates, Sebastian said.
Marty Graham is a freelance writer for the San Diego Business Journal.