Epsilon Systems Receives $15.8M Navy Contract
Tuesday, October 22, 2013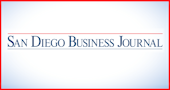 San Diego-based Epsilon Systems Solutions Inc. received a $15.8 million U.S. Navy contract for professional and engineering support services.
The Navy office awarding the deal was the Southwest Regional Maintenance Center, the branch of the Naval Sea Systems Command that coordinates Navy ship maintenance and repair.
Epsilon will support several departments — including those overseeing operations, corrosion control, engines, combat systems, production control and off-site repair programs — at Naval Base San Diego. Work is expected to continue through July.
The Navy said that the contract was not competitively procured because no other supplier could satisfy the requirements.
— SDBJ Staff Report