DEFENSE: AREA SHOULD STILL FARE BETTER THAN MOST IN CUTS
Area to See Reduction In Military Spending
Monday, October 21, 2013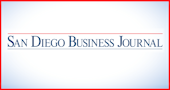 Slightly less military money will circulate through San Diego County in 2014, thanks to the economy, Washington politics and what's known of future military priorities.
That's among the conclusions in a recently released study commissioned by the San Diego Military Advisory Council, or SDMAC.
Pentagon spending in San Diego appears to have peaked in 2013 and is expected to decline slightly in 2014, according to the SDMAC report. The report anticipates that total defense spending in the county will fall roughly 1 percent, to $24.35 billion, during the fiscal year that began Oct. 1.
Likewise, SDMAC predicts less money will be allocated for private contractors in 2014. It noted that San Diego County businesses received an estimated $10.09 billion in procurement contracts in fiscal 2013, which could drop 2.5 percent to $9.83 billion in fiscal 2014.
At the same time, details on 2014 spending are hard to come by, as Congress had not passed a defense budget as of press time.
The Pentagon could well face a second year of sequestration, the federal government's program of across-the-board budget cuts to reduce the deficit, during 2014. If so, it is unclear how much say Navy or Marine Corps leaders might have in setting priorities for spending 2014 funds.
Already, it looks as though business will hurt.
The Navy's top officer recently told Congress that with no budget and under a second year of sequestration, the Navy will have to cancel 34 of 55 surface ship maintenance periods in several ports, including San Diego. The impact to private business nationwide would be $950 million, said Adm. Jonathan Greenert, the chief of naval operations.
San Diego might see the number of ships going in for repairs cut in half, said Derry Pence, president of the Port of San Diego Ship Repair Association. Private shipyards and contractors handle ship repair in San Diego.
Greenert also told Congress last month that the Navy may delay buying a new ship from San Diego-based General Dynamics Nassco in 2014 if it has to operate under a temporary spending plan and sequestration. Previous ships in the class have cost hundreds of millions of dollars.
Greenert spoke of other cutbacks, including aircraft maintenance. The Navy runs an aircraft depot on North Island.
Other Forces at Work
The SDMAC study cited other forces at work on Pentagon funding in San Diego. For example, the process of leaving Afghanistan will likely shrink the Pentagon budget.
On the other hand, some factors could help San Diego:
• The military's growing reliance on special forces may benefit Coronado, which is home to the Naval Special Warfare Command and a training ground for its SEAL commandos.
• The military is placing more emphasis on cybersecurity and unmanned aircraft. San Diego has contractors specializing in both.
Indeed, San Diego is full of technical minds. The Navy labs, known for short as SPAWAR Systems Center Pacific, are pushing the limits of technology. One project is the Mudfish, an undersea robot that operates using a microbial fuel cell. The robot reportedly recharges itself by extracting power from sea floor sediment.
• San Diego has much going for it geographically, since it is near several training ranges in the desert and ocean.
• Beyond 2014, the Pentagon plans to put 60 percent of Navy ships in Pacific Ocean ports, up from 50 percent. With the prospect of San Diego getting more ships, the SDMAC study estimates how individual ships could contribute to the local economy.
Workforce Reduction
Lean budget times ought to slightly reduce the Defense Department's workforce in 2014.
One out of five Defense Department employees working stateside works in San Diego County. In 2013 there were an estimated 139,000 employees, both uniformed and civilian. That number is expected to shrink to 136,400 in fiscal 2014.
Salaries for active duty sailors and Marines totaled $6.64 billion in fiscal 2013, with housing benefits adding $2.34 billion to that figure. The numbers are expected to decline 1 percent in 2014. For the first time, study authors looked at housing benefits as a component of salary.
Civilian salaries totaled $1.97 billion in 2013 and will likely rise a fraction of a percentage point in 2014.
Leading Contractors
The top contract recipient in the survey was unmanned aircraft builder General Atomics Aeronautical Systems Inc., which had $2.41 billion in deals during fiscal 2012 — the latest year for which data was available. The Defense Department is still an enthusiastic buyer. It sent GA-ASI a flurry of unmanned aircraft contracts — many for U.S. Army aircraft — before the close of fiscal 2013.
Another unmanned aircraft builder, Northrop Grumman Corp. (NYSE: NOC), got the second-highest spot with $1.54 billion in 2012 contracts. Northrop Grumman produces the Fire Scout helicopter and the unmanned Global Hawk high-altitude spy aircraft. It is uncertain whether and how the corporation's federal customer wants to move forward in the Global Hawk program, since some Air Force brass say they prefer Lockheed Martin Corp.'s (NYSE: LMT) manned U-2 spy plane. Northrop Grumman is also looking for foreign buyers for Global Hawk.
General Dynamics Nassco scored the No. 3 spot in fiscal 2012, with $1.16 billion in 2012 contracts.
Looking Better Than Most
While there is much fog in the 2014 forecast, it's not an entirely gloomy picture for San Diego, according to SDMAC.
"San Diego will not escape pressures to shrink the national defense budget," study authors said, "but the region is expected to fare better than most other areas possessing significant defense clusters."
At least one private-sector official agrees.
"We continue to get indications that San Diego is going to come out better than other communities," said Jerry Sanders, CEO of the San Diego Regional Chamber of Commerce.
Sanders got an in-person view of congressional paralysis during a lobbying trip to Washington, D.C., that ended on Oct. 2. Without a spending plan for 2014 or even a stopgap spending measure — called a continuing resolution — passed before the end of the recent fiscal year, many government agencies shut Oct. 1.
Business and military leaders alike need a 2014 federal budget so they can plan effectively, Sanders said. Leaders in uniform and in business "look out several years" while planning, he said.
"Congress needs to sit back and figure how to get a budget out," he said.