EcoATM's Verification Process Lauded; Co. to Co-Host Seminars for Law Enforcement
Wednesday, October 16, 2013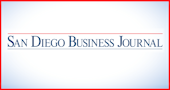 EcoATM, the San Diego business that makes kiosk machines that accept and make payments for unwanted digital devices, said the FBI-Law Enforcement Executive Development Association Inc. cited the company's verification process as excellent evidentiary source for prosecuting criminals.
FBI-LEEDA, not affiliated with the FBI or acting on its behalf, works to improve law enforcement practices. It said it reviewed ecoATM's verification technology, met with executives and observed ecoATM's operations. They noted the company voluntarily reports identifying information about the devices its machines accept to local law enforcement officials.
The company and organization said they will begin co-hosting a series of training events for law enforcement officials across the nation focused on strategies to prevent mobile phone theft. The first of the events is scheduled for San Diego on Dec. 11-13.
Earlier this year, ecoATM was acquired, for $350 million, by Outerwall, a Bellevue, Wash., company that operates Redbox and Coinstar kiosks.
— Mike Allen