Arynga Releases Its CarSync 1.0 Software
Tuesday, October 15, 2013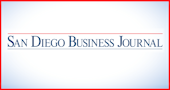 San Diego-based Arynga recently released version 1.0 of its CarSync software.
The company's technology sends software and firmware updates to vehicles, over the air. It also delivers material to in-vehicle infotainment systems.
The business, funded by Qualcomm Labs and Exekias, is targeting customers among original equipment manufacturers and tier 1 auto industry suppliers.
Albany, N.Y.-based Transparency Market Research recently estimated that the global connected car market will experience a compound annual growth rate of 34.7 percent, reaching $131.9 billion by 2019. Frost and Sullivan reports that vehicle manufacturers spend millions of dollars each year on warranty and recall costs, with more than 50 percent of recalls attributed to software and electronics problems.
Arynga is an 18-month-old business with its headquarters in the EvoNexus incubator in the University Towne Center neighborhood. Company officials hope to leave the incubator by late spring. The company has 12 full-time employees and several contractors in San Diego, Detroit and Poland. Walter Buga is CEO.
— SDBJ Staff Report