KUDOS/GIVING COLUMN
Junior Achievement Golf Classic Raises $138,000 for San Diego Kids
Monday, October 14, 2013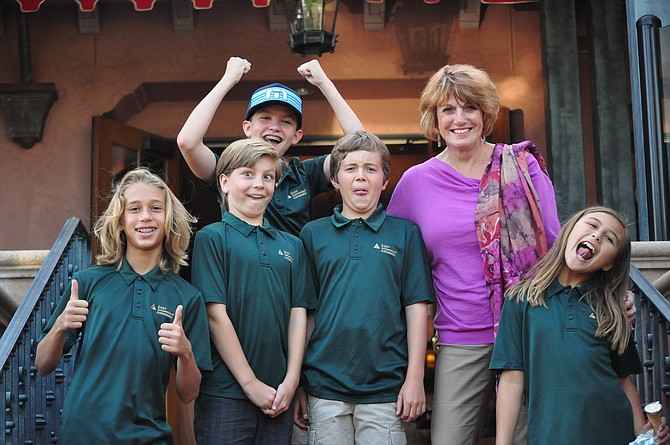 Junior Achievement of San Diego County hosted its first JA Golf Classic presented by San Diego Fluid System Technologies. The sponsors plan to hold the event annually. More than 80 supporters of Junior Achievement's mission gathered for a day at The Grand Golf Club. The participants raised more than $138,000 for JA's financial literacy programs offered to more than 50,000 kids each year.
Besides the presenter, companies who joined the fundraising event included Baker Electric Solar, PacTrust Bank, San Diego EDC, Union Bank, Dowling & Yahnke LLC, Procopio, Cory & Hargreaves LLP, Balfour Beatty, Bernstein Global Wealth Management, The B.E.S.T CEO Group, University Mechanical, Jack in the Box Inc., DLA Piper, Deloitte, U-T San Diego and T.W. Ruban Group.
Proceeds from the event went to Junior Achievement's financial literacy, career readiness and entrepreneurship programs for kids in grades kindergarten through 12th.
The Oceanside Charitable Foundation announced the Hear Me and Heal Me Transitional Housing Program has provided a grant of $6,600 to The Museum of Making Music in partnership with the Women's Resource Center. The grant will be used to provide a 12-week interactive, therapeutic music course for children residing in the WRC's Transition House.
Applications are now available for the Jeffrey D. Sollender Business and Philanthropic Youth Entrepreneurship Scholarship Program at the Jewish Community Foundation of San Diego. Scholarships from the fund are available to graduating high school seniors of all faiths in San Diego who are planning to attend two- or four-year colleges or universities. The deadline to submit an application is Feb. 15, 2014. For information, visit www.jcfsandiego.org/scholarships.
Schubach Aviation, a San Diego private air charter firm is sponsoring Charlie the rescue dog. Charlie, suffering from abuse and neglect, was picked up as a stray at the end of March 2013 and taken to the Chula Vista Animal Shelter. After spending two months there without being adopted, he was transferred to the Rancho Coastal Humane Society through the Friends of County Animal Shelters program. Charlie is enrolled in a nine- to 12-month training program through Shelter to Soldier, a San Diego nonprofit that rescues shelter dogs, trains them to become service dogs and places them with deserving veterans struggling with the often disabling psychological effects of combat. The company's donation will cover the costs of training, housing and feeding Charlie, and pay for his medical care, equipment, travel and grooming while he goes through the program.
The Boys & Girls Clubs of San Dieguito recently finished a major renovation to their Griset branch gym in Encinitas, adjacent to Oak Crest Middle School. Nearly $100,000 was invested in renovations and upgrades that included: a new roof, interior paint, lighting and fixtures, and new basketball backboards with breakaway hoops. Funding for the investment came from the Price Charitable Family Fund and San Diego County.