Fashion Valley Gets Nation's First Multi-Format Vehicle-Charging Station
Thursday, October 10, 2013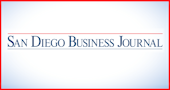 NRG eVgo, a Houston-based subsidiary of NRG Energy Inc., recently installed an electric-vehicle charging station at Fashion Valley mall in Mission Valley, which NRG said is the nation's first station able to support all types of electric vehicles on the road.
The company's Freedom Station at Fashion Valley has connectors for two types of direct-current technology for fast charging, as well as traditional alternating-current technology now being used by vehicle makers.
Company officials said the unveiling of the mall station coincides with the state's goal of having 1.5 million zero-emission vehicles on California roadways by 2025. NRG is in the process of building electric vehicle charging networks in regions including San Diego County, the Los Angeles Basin and San Francisco Bay Area.
Fashion Valley, owned by Indianapolis-based Simon Property Group Inc., is San Diego County's largest regional mall.
— SDBJ Staff Report