LAW COLUMN
San Diego Volunteer Lawyers Program Honors Local Pro Bono Work
Monday, October 7, 2013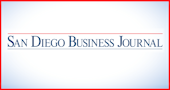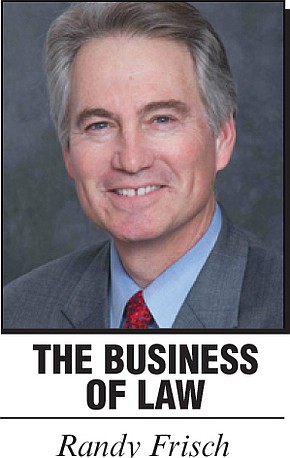 The San Diego Volunteer Lawyers Program held its annual Justice for All celebration recently, and it was cool. Really. If you've attended in prior years, you remember it was held at the Museum of Man, where there is no air conditioning. All the lawyers, all the hot air, it was really tough to stay until the end. This year, no problem. It was in the Natural History Museum, under the whale. Christopher McGrather, Timothy Cohelan, Connie Wolfe, Randall Reed, Jeffrey Isaacs, David Noonan, Timothy Pestotnik and Edward Vogel were the executive committee for the event, and they did a great job.
As you've read here before, Ben Wagner was given the Pro Bono Publico Award, and he had a terrific acceptance speech. Jay Jeffcoat accepted the Sustaining Justice Award for DLA Piper LLP, and he did his usual excellent job of accepting for the firm. Melissa Blackburn-Joniaux earned her Exemplary Service Award and Cohelan, Khoury & Singer, Hanson Law Firm and Kirby Noonan Lance & Hoge LLP were each recognized for their work with the volunteer program and helping everyone access our judicial system.
U.S. District Court Judge Irma Gonzalez, who gave the keynote, spoke about why we work at the law: justice — you can't get if you have no access to it. It was inspiring. She will also give the keynote at San Diego Business Journal General Counsel Awards, which will be held from 4:30 to 7:30 p.m. Oct. 10 at the San Diego Marriott La Jolla.
Fish & Richardson P.C. principal Juanita Brooks has probably won every legal recognition. Recently, Brooks was recognized for her June win for her client Fresenius Medical Care Holdings Inc. In a case widely watched by the legal community, the ruling held that the federal trial and appellate courts are required by statute to dismiss pending patent cases if the U.S. Patent and Trademark Office has canceled the asserted claims through reexamination. Nice work.
Gordon & Rees held its Eighth Annual Diversity Reception recently, a one-of-a-kind event where the firm invites students from nine area law schools to spend an evening at the firm's San Diego offices. About 80 law students attended this year's reception, and they met about 20 Gordon & Rees lawyers, who talked to them about the practice of law, some of the challenges and what it's really like to work at a large law firm, among other things. Students from California Western School of Law, Thomas Jefferson School of Law, University of San Diego School of Law and seven Los Angeles-area law schools attended.
Speaking of Gordon & Rees, the firm elevated Yaara Siler, George Soares and K.C. Swisher to partners in the San Diego office. Siler has extensive experience with commercial real estate leasing and purchase and sale. She regularly represents landlords and tenants in commercial leasing transactions. Soares handles coverage and bad-faith litigation on behalf of insurers. He advises clients on coverage and policy language for commercial general liability and errors and omissions claims. In addition, Soares helps clients with marine insurance claims under hull and machinery, yacht and cargo intermediaries. Swisher has litigated insurance bad faith, insurance coverage, corporate, premises liability, construction defect, personal injury and mass tort matters.
Best Best & Krieger LLP ranked No. 2 among California law firms in terms of percentage of female partners, according to a recent survey. Women account for 32.6 percent of the partners at BB&K, which has nearly 180 lawyers working in nine offices across California and in Washington D.C., according to the survey. "BB&K has a long tradition of supporting women by not only helping to advance our legal careers but by promoting women to key management positions within the firm," said Arlene Prater, a partner who manages the firm's local office.
Knobbe Martens Olson & Bear LLP partners Ned Israelsen, Christy Lea, Sabing Lee, Steven Maddox, Joseph Mallon, Joseph Re, Joseph Reisman, Gerard von Hoffmann, William Zimmerman and founding partner Don Martens have been recognized as "life sciences stars" for their intellectual property practices. The firm was recognized for its outstanding accomplishments representing generic pharmaceutical companies in Hatch-Waxman disputes for major companies including Teva, Mylan Inc. and Watson Pharmaceuticals Inc. Israelsen, managing partner of the firm's San Diego office, was recognized for his intellectual property patent prosecution practice. Lea was recognized for her general patent litigation and protection, specifically for combination products, drug formulations, general hospital devices and supplies, generic drugs, implants and prosthetics. Lee was recognized for his patent prosecution, patent advisory, strategy and management practice. Maddox was recognized for his general patent litigation and protection, specifically for antiviral drugs. Mallon was noted for his deep understanding of the technology and attitude toward the industry. Martens, now of counsel to Knobbe Martens, focuses his practice on being an arbitrator and special master in intellectual property cases. Re was recognized for his patent litigation practice. Reisman was recognized for his patent prosecution and general patent litigation and protection. Zimmerman was recognized for his recent work representing pharmaceutical manufacturer Ranbaxy. And von Hoffmann was recognized for his patent advisory, strategy and management.
Randy Frisch is vice chancellor of business and administration at National University, and former publisher of the San Diego Business Journal. He is licensed to practice law in California, Nevada and Idaho.