CareFusion Issues Update on Voluntary Recall of Class I Avea Ventilator
Tuesday, October 1, 2013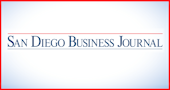 San Diego-based CareFusion Corp. has updated the status of its voluntary Class I Avea ventilator recall, saying that hospital users in high altitude areas are at the highest risk when using the device.
The recall announcement did not affect the company's stock price. CareFusion (NYSE: CFN), a $7.91 billion market cap company, closed day trading Sept. 30 at $36.90, a 16 percent increase from the start of the year.
The company said it has received five complaints about the device's efficacy, but no injuries have been reported. CareFusion said that hospitals that use the device at altitudes lower than 5,000 feet needn't worry.
The recall was initiated Sept. 3, and was designated Class I by the U.S. Food and Drug Administration because its use showed "reasonable probability of serious adverse health consequences or death."
-SDBJ Staff Report