STARTUPS: CO-WORKING SITE PLANS P.B. LOCATION FOR INNOVATION, INSPIRATION
Going to the Beach Is Entrepreneur's Business Plan
Saturday, November 30, 2013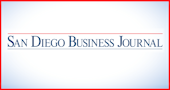 To Raymond Hivoral, the beach and entrepreneurship are like ice cream and a 90-degree day — they go together.
These days, the founder of the San Diego Entrepreneur Center and Concerto Networks Inc. is talking about plans to create a co-working space in Pacific Beach.
Hivoral would like to find some underused real estate, perhaps in an eastern neighborhood near Interstate 5. With the help of a crowdfunding campaign, he would like to turn that space into an "office hotel."
The shared space could be the launch pad for a new generation of entrepreneurs. Hivoral said that through his work organizing entrepreneur conferences, he's in touch with many people running young businesses.
While San Diego already has a mix of co-working spaces and business incubators, Hivoral thinks the region needs more and that they could only add to the area's economy.
He said the community of Santa Monica — the coastal area in Los Angeles becoming known as Silicon Beach — is an inspiration. "A lot of startups have migrated toward the beach," Hivoral said.
There and in San Francisco, he added, people are getting away from traditional office space.
Seeking Funding in the Crowd
For now, Hivoral calls his project the Pacific Beach Entrepreneur Coworking Collaborative Center. He said he would like to find 5,000 to 7,500 square feet of space to build out.
He plans to use GoFundMe.com, a San Diego-based crowdfunding site, to raise $150,000 or $200,000, likely during the first quarter of 2014.
The office hotel's business model would be akin to a gym membership, he said, with members having privileges to use the facilities. Hivoral named several entrepreneurs who are potential members; he said he deliberately does not use the term tenant.
The space would serve all variety of businesses, Hivoral said, from highly technical to nontechnical. He sees the space as a place for business workshops and events, and envisions food service.
Hivoral recently pitched the idea of his co-working center to members of beach-area community groups, including the Pacific Beach Town Council and Discover Pacific Beach. The latter organization runs the community's business improvement district.
Pacific Beach hotelier Elvin Lai, president of Discover Pacific Beach, said he was not aware of the presentation but sees a need for something like it.
"I am a huge advocate of co-work space and a promoter of entrepreneurship," he wrote. "[W]e have a lot of home-based business in town, and these businesses would benefit greatly from the collaboration and networking a co-work space would provide."
Hivoral considers himself a serial entrepreneur. He founded Concerto Networks, which offers information technology service and support to small and midsize businesses, in 2002.
More recently, Hivoral founded the San Diego Entrepreneur Center, and he has staged San Diego Entrepreneur Day for the last two years. For the inaugural event, Hivoral and co-founder Mike Spangler were able to get then-Mayor Jerry Sanders to proclaim Sept. 22, 2012, as Entrepreneur Day in San Diego. A few months ago, several area politicians came to East Village for a follow-on event.
Startups and Surf
Hivoral said there had been the beginnings of an entrepreneur community in two co-working spaces called Hivehaus. He had been working with the spaces' owner, architect Graham Downes. But the collaboration ended after Downes was killed in April. His alleged assailant faces charges of murder and attempted murder, according to the San Diego County District Attorney's Office.
Hivoral said he began working with Downes at Hivehaus during 2011. He recalled that the architect helped him launch the San Diego Entrepreneurial Center using Hivehaus as "a vessel."
In a sense, the Pacific Beach space would be an effort to re-create that entrepreneurial community.
Hivoral sees a core of regular users living 5 to 7 miles from the co-working space.
More public transportation options may be available soon, Hivoral said, noting that when the operator of the San Diego trolley builds a northern extension to University City, there will likely be a new trolley stop in the eastern portion of Pacific Beach.
As for break time, Pacific Beach offers plenty of diversions.
Hivoral alludes to that in the motto for his proposal: Startup-Build-Live-Surf.