Lawsuit Challenges Coastal Commission Approval of Convention Center Project
Tuesday, November 26, 2013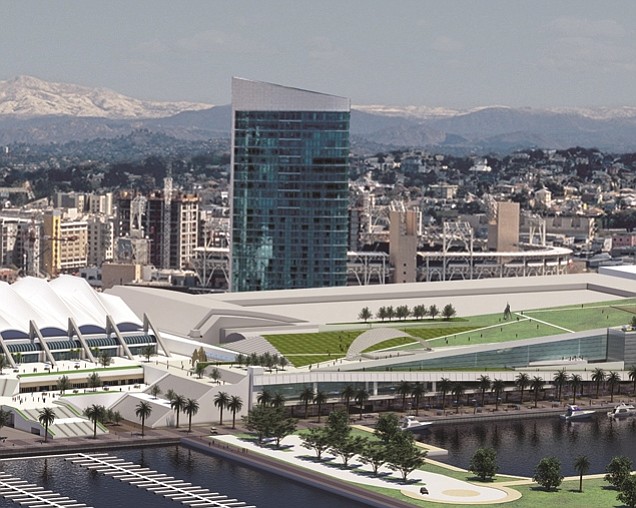 A local environmental group has filed a lawsuit challenging the California Coastal Commission's October approval of plans for a $520 million expansion of San Diego Convention Center.
San Diego Navy Broadway Complex Coalition, represented by local attorney Cory Briggs, alleges the approval does not follow state coastal and environmental protection laws. The lawsuit also alleges that late changes to the project were approved without public comment, and that at least one coastal commissioner had undisclosed communication with the port district and other parties prior to the Coastal Commission's final vote.
The lawsuit was filed Nov. 25 in San Diego County Superior Court, listing the Coastal Commission and San Diego Unified Port District as defendants. It seeks to reverse the Coastal Commission's approval, and to have the commission reconsider current and alternative plans for the project.
The port district owns the convention center property and has local jurisdiction over all downtown waterfront projects. The center is operated by the city of San Diego, through the nonprofit San Diego Convention Center Corp., which is not a defendant.
Briggs and the same environmental group have filed several similar lawsuits over local downtown projects during the past decade, including the convention center, Embarcadero improvements and proposed commercial redevelopment of the U.S. Navy's aging headquarters complex.
The convention center project also faces two separate civil lawsuits over its funding mechanism, under which local hoteliers would fund the bulk of costs through assessments on room bills.
Plans call for adding 740,000 square feet of indoor and outdoor spaces to the current convention center. If legal hurdles are cleared, operators are looking to break ground in late 2014 and complete the project by late 2016.
Also at stake is a privately funded $200 million expansion of the next-door Hilton San Diego Bayfront hotel, which would add 500 rooms and is contingent on the convention center project moving forward.