DEFENSE: COMPANIES' REALISTIC SIMULATIONS BRING HOME THE LESSONS OF WAR
Training Mission
Monday, November 25, 2013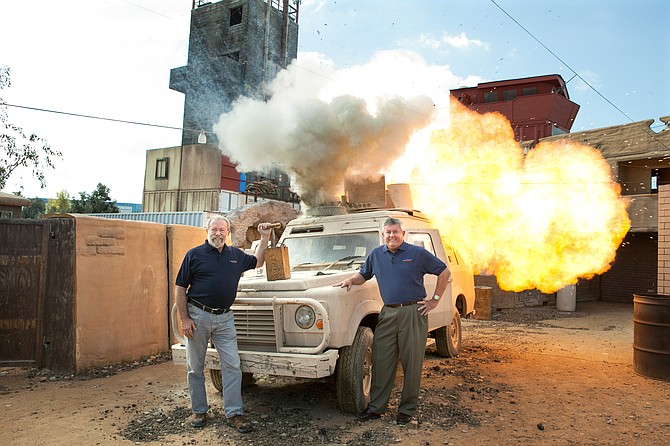 The blood and the chaos seem very real during a morning spent training sailors to be U.S. Navy corpsmen on the grounds of Strategic Operations Inc. in Kearny Mesa.
While the action is simulated, with actors portraying the wounded and makeup artists creating battlefield wounds, the stress is not. At one point in the staged battle scene, two trainees carry a wounded man on stretcher toward a makeshift field hospital — until the afflicted man rolls and tumbles to the ground. The sailors scramble to pick him up as an instructor at one's ear shouts invectives.
Strategic Operations President Stu Segall estimated that his privately held company — in its 12th year of facilitating combat training for the military for a fee — has staged training for 750,000 members of all services at his site and sites throughout the country.
"We have a reputation for doing a certain high standard that military looks for," Segall said.
Born from a film and television company until that business "flatlined" early last decade, Segall said, training for the military and law enforcement is now the company's lifeblood.
And it's not alone. San Diego is a hotbed for military training and — by extension — a hotbed for businesses that play direct and supporting roles in preparing military members for their jobs. Military training contracts are worth hundreds of millions of dollars yearly to San Diego firms.
Such contractors supply all manner of training aids. They build specialized electronics and aircraft simulators. They produce training materials reminiscent of video games, or provide instructors with specialized knowledge. And they take a cue from Hollywood, contributing actors, makeup and realistic sets for war games.
Competing for Business
Segall got into military training more by circumstance than by design. The local office of the Drug Enforcement Agency asked to use his sets for training, and it turned out that some of DEA training officers were Marine Corps Reserve officers.
"We started training with the Marines right before they went into Baghdad," he said, adding that his company helped train about 125,000 Marines at its site from roughly 2003 to 2009.
Today, one quarter to one third of Strategic Operation's business takes place at its set in Kearny Mesa, where the surroundings resemble a village in Iraq or Afghanistan. More often, the training is at military bases, Executive Vice President Kit Lavell said.
Some of Strategic Operations' role-players are amputees. Recently, Lavell said, he has gotten some wounded corpsmen to help the next generation by taking jobs as actors.
Lavell declined to give his company's revenue, but said the bulk of it is in military training. The business began as a movie studio in 1991 but shifted to military training after 9/11.
Today, Strategic Operations competes for its work.
"We don't get sole-source contracts," Lavell said.
In June, the business got a deal to train British soldiers at a military base in Alberta, Canada. Strategic Operations also offers training for law enforcement agencies.
Part of Strategic Operations' business, both on- and off-site, is building sets. Its construction crews recently built a Navy destroyer interior at one of its Kearny Mesa sound stages to train sailors for scenarios like the bombing of the USS Cole. The enterprise put together a mock Middle Eastern village in the undeveloped, eastern part of Marine Corps Air Station Miramar in 2004. And under the guidance of a U.S. Marine Corps general, it converted a 33,000-square-foot building at Marine Corps Base Camp Pendleton into an infantry simulator.
Strategic Operations recently developed an actor-worn "cut suit" which bleeds when cut. The business is trying to interest its government client in using it more. The demand for such simulators may increase since animal rights advocates have objected to the military using live farm animals for medical lessons.
Adapted to Training
Training could easily be Cubic Corp.'s middle name.
The Kearny Mesa-based company offers several varieties.
In work similar to Strategic Operations, Cubic (NYSE: CUB) helps the U.S. Army produce war games at Fort Polk, La. It provides hundreds of trainers and role players, many of whom speak Arabic and Pashto. Cubic received a $75.8 million deal in May to continue its long-running training business at Fort Polk.
Cubic may be better known for electronics. It builds laser adapters that attach to weapons such as rifles or small arms — making them tools for realistic war games. Soldiers wear laser receivers during the games, and vehicles also sport receivers, giving the war game's organizers information on hits and misses. Cubic calls its system Miles, short for multiple integrated laser engagement system.
The company also builds an air combat training system, packing electronics into cigar-shaped pods that can be mounted on the wingtips or fighter jets' missile launchers. The pods contain electronic gear — GPS receivers, inertial measurement units, data link radios, flight data recorders and computer chips — that track a pilot's performance during training. Data from the flight may be reviewed later.
Also, Cubic offers training reminiscent of video games. Early this year, the company's Orlando, Fla.-based Simulation Systems Division received three U.S. Navy contracts that could be worth as much as $300 million over five years. Under the deals, Cubic will provide gamelike simulation to train sailors for work aboard the Navy's new littoral combat ships. The company describes the training as 3-D immersive instruction led by an avatar instructor.
Not all of Cubic's sales are to the U.S. military, insulating the business somewhat from the prospect of declining Pentagon budgets.
Training Taking Flight
Among its various military projects, University City-based Kratos Defense & Security Solutions Inc. designs and builds vehicle simulators to train members of the military. The business has put together more than 100 replicas and simulators of aircraft and ground vehicles.
They include replicas of the Black Hawk helicopter; Kratos (Nasdaq: KTOS) offers trainers for many systems aboard the flying machine. At Joint Base Langley-Eustis in southern Virginia, student technicians from the U.S. Army work in a partial shell of a Black Hawk fuselage, trying to isolate faults in the avionics, and perform other maintenance. Nearby, an instructor looks on from a podium-mounted computer.
Kratos received a $7.1 million deal from the Army to provide multiple UH-60M Black Hawk helicopter avionics simulators last year. In July, Kratos received a related Army deal calling for it to build multiple systems to train flight-medic students to operate systems aboard the air ambulance version of the Black Hawk. Kratos did not disclose financial terms of the contract, other than to say it was a multimillion deal.
Kratos also provides trainers for the venerable Boeing CH-47F Chinook helicopter, the Boeing AH-64A Apache helicopter, the BAE Systems Bradley armored fighting vehicle, and two rocket systems, the M270 and M147.
The company builds simulators in Orlando, while a group in San Diego develops classroom courses.
Kratos is upbeat about the training business.
"It's an area we're investing in," said Phil Carrai, president of Kratos' technology and training solutions division.
Foreign Training
Aircraft have always been at the heart of Poway-based PKL Services Inc., which is now carving a new niche training foreign air forces to maintain and fly Boeing's F-15 fighter. Such work takes the company to Idaho, where PKL trains pilots and technicians from Singapore, and halfway around the world to Saudi Arabia.
"Both contracts are coming along very nicely," CEO Sam Flores said.
Privately-held PKL got the $95 million, two-year deal with the Saudi government via the U.S. Air Force. Under it, PKL trains junior and mid-level Saudi maintenance technicians at two widely spaced military bases on the Arabian Peninsula.
At Mountain Home Air Force Base south of Boise, PKL trains members of Singapore's air force on aircraft maintenance and operation under a five-year deal. PKL oversees a group of retired U.S. Air Force pilots who train Singaporean pilots to fly the aircraft and serve as weapon system officers.
PKL reported $48 million in revenue in 2012, unchanged from 2011. Flores said his business is targeting $61 million in 2013. Because of growth, the company bought a second building in the Poway Business Park in May.
Since its inception in 2003, PKL has focused on aircraft maintenance support for the U.S. military — with little bits of training here and there. "All the contracts we have involve training to some extent," Flores said. PKL was able to leverage its maintenance experience, strong reputation and cost-effective approach to go after — and win — training jobs, he said.
The company is pursuing four training contracts, Flores said: two in Fallon, Nev., and two in Saudi Arabia.
PKL got into foreign military sales as "a defensive hedge" against the current uncertainty and constraints of the U.S. budget, Flores said.
"We were looking to mitigate the risk of future revenue shortfalls," he said.
The military training community is preparing for one of its biggest annual gatherings soon. Organizers of the Interservice/Industry Training, Simulation and Education Conference plan to welcome thousands of delegates to Orlando Dec. 2-5. The show has an international following.
Some 561 companies exhibited at last year's I/ITSEC show. Cubic and Kratos are among the companies expected to exhibit this year.