BIOPHARMA: LATEST DEAL GIVES COMPANY WAY TO FIGHT CANCER WITH TARGETED TOXIN
Sorrento Therapeutics' $12M Acquisition Expands Antibody Library
Monday, November 25, 2013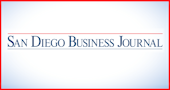 San Diego-based Sorrento Therapeutics Inc., with the $12 million acquisition of Concortis Biosystems Inc., is rounding out what has been a pivotal year for the company.
Sorrento Therapeutics (Nasdaq: SRNE) began the year as a small discovery-stage company trading on the over-the-counter markets, but it has since made some interesting acquisitions that have enabled it to uplist to the Nasdaq as a clinical-stage drug developer.
The company's market capitalization has tripled this year — from about $60 million to just under $200 million.
In addition to buying San Diego's Concortis Biosystems, the company in recent months has acquired New York-based Sherrington Pharmaceuticals Inc. and Fountain Valley-based Igdrasol Inc. for undisclosed sums. In August, it closed a $35 million public offering.
The company, founded in 2009, employs about 50 — adding about 20 this year with the recent acquisitions. Prior to the acquisitions, which have made Sorrento a cancer therapeutics company, it was researching treatments for methicillin-resistant Staphylococcus aureus and inflammatory disorders, but it didn't have any clinical-stage therapies.
The company said the recent acquisition will enable Sorrento Therapeutics to develop antibody-drug conjugates — a new class of potent biopharmaceutical drugs for targeted cancer treatment. CEO Henry Ji said this acquisition marks Sorrento's as the most diverse antibody library in the industry, which he said will be a useful tool in developing future cancer therapeutics.
These antibody-drug conjugates are particularly useful in cancer therapies because they can target cancer cells based on their external biochemical makeup, and deliver a dose of toxins directly to the location. Such specificity helps decrease damage to healthy cells. The company also recently announced an agreement with The Scripps Research Institute to further develop such antibody treatments, particularly for a diabetes treatment.
Notably, with the acquisition of Igdrasol, Sorrento gained rights to a drug called Cynviloq, which is approved and marketed in several countries — but not the U.S — by South Korea-based Samyang Biopharmaceuticals to treat metastatic breast cancer. The drug has entered Phase 3 clinical trials in the U.S. for pancreatic, ovarian and bladder cancers.
Ji said Cynviloq is meant to be a next-generation form of Abraxane, made by New Jersey-based Celgene Corp., a powerful drug that was fast-tracked by the Food and Drug Administration because there aren't enough such drugs on the market. Ji said the company plans to file a new drug application with the FDA within three years.
And the acquisition of Sherrington Pharmaceuticals brought Sorrento Pharmaceuticals a new painkiller drug called resiniferatoxin that's being tested in terminally ill cancer patients, as well as others who suffer from intractable chronic pain. The new drug is more than 1,000 times hotter than capsaicin, Ji said, which is the chemical that makes chili peppers spicy. The "spicy" drug helps numb the pain receptors in patients with chronic pain, Ji said, and is in Phase 1 and 2 clinical trials in the U.S. and Europe.
"With the acquisitions this year, we have an antibody that can enter cancer cells, a toxin that can kill the cancer cells, and a painkiller to help ease patients from suffering," Ji said. "Now we have the complete package — a one-stop shop for cancer treatment."