PROPERTY: ACTIVE INDUSTRY BUILDS MOMENTUM FOR PROJECT
Life Sciences Campus Planned for UTC Site
Monday, November 25, 2013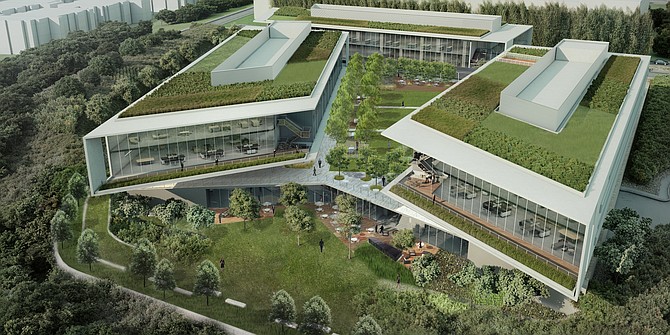 BioMed Realty Trust Inc. is betting that rising financial interest in the life-sciences sector — in the form of increased venture funding, public stock offerings and high-profile acquisitions — will translate into tenants seeking to occupy its new campus planned for University Towne Center.
The San Diego-based company, among the region's largest office landlords and one of the top three U.S. holders of life-science real estate, recently began demolition of a building that it owns at 4775 and 4785 Executive Drive, currently known as Innovation Center.
BioMed (NYSE: BMR) has received city approvals to replace that building with a state-of-the-art, three-building campus, to be called Center for Life Science San Diego. The company has not announced an expected price tag for the 7-acre project, which would include more than 307,000 square feet of rentable space, along with an outdoor auditorium, bicycle storage, bocce courts, rooftop gardens and other sustainable features aiming for LEED platinum certification.
The new campus, expected to move forward in the first half of 2014, would be the third large new-construction office project at UTC since 2011, following Hines' new 13-story tower nearing completion at La Jolla Commons and Irvine Co.'s just-started 15-story tower project at La Jolla Centre.
Seeking Some Commitment
While it's confident about finding tenants, BioMed's strategy for populating its newest project is somewhere between that of Hines, which fully preleased its tower to LPL Financial before proceeding, and Irvine Co., which commenced with no pre-leasing.
"We want to see a certain level of preleasing or committed interest in the project before we complete all three buildings," said Tracy Murphy, BioMed's senior director of leasing and development. It could ultimately be a single- or multiphase project, though full development could play out in 18 to 24 months once the first tenants are aboard.
BioMed's preliminary renderings, which the company said are subject to change, show office and exterior amenities to be developed in a three-level configuration.
Murphy said the cost for BioMed's Center for Life Science will hinge on numerous factors, including when individual buildings get completed, who is looking to locate there, and what kind of office and lab configurations tenants require.
Irvine Co. has said it plans to invest more than $100 million in its new UTC project, which has similar office square footage to that of BioMed's.
The breadth of research and development now taking place in biotech and pharmaceuticals make numerous tenant scenarios possible by the time the project is completed, Murphy said.
The life sciences sector has seen a slowdown in office leasing over the past few quarters, but that might not last much longer. A new report, by brokerage company Cushman & Wakefield's Global Life Sciences Practice Group in San Diego, points to a rise in funding activity, initial public offerings and mergers and acquisitions impacting life-science companies.
San Diego companies are now seeing the third-largest influx in U.S. investment — behind San Francisco and Boston — with local venture capital funding up 26 percent from a year ago, to $1.8 billion, according to PwC and the National Venture Capital Association. The Wall Street Journal recently reported that U.S. biotech firms are seeing their biggest run of initial public stock offerings in a decade.
Biotech Space Not Vacant Long
Greg Bisconti, senior director in Cushman's life-science group, said the tenants most likely to seek the newest space — like that in BioMed's new project — would be the largest national and global players. Some might be companies that already have a local presence, he said, but BioMed also has access to tenants nationwide that it could convince to move to or set up new operations in San Diego.
Bisconti said that when UTC spaces have been emptied in recent years by biotech and pharmaceutical companies — often because of acquisitions and consolidations — they have generally been refilled in short order. That's partly because UTC has been benefitting from technology spaces becoming scarce in other life-science hubs, especially Torrey Pines and Sorrento Mesa.
"Even when a large company buys out a smaller one, the people in that smaller company will stay in the local market to form new companies," Bisconti said.
Cushman & Wakefield noted that San Diego in 2013 has seen limited availability of quality lab space, but also limited major transaction activity. The region's life-science vacancy rate stood at around 10 percent at midyear and rose to 11 percent in the third quarter.
However, Bisconti noted that the M&A wave of 2012 — impacting companies such as Amylin Pharmaceuticals, Gen-Probe Inc. and Ardea Biosciences — has continued into 2013. This year's big deals have involved companies that have large local presences — such as Althea Technologies, Verenium Corp. and Life Technologies Corp. — being acquired by large national and global companies, and the long-term fates of their current spaces are yet to be determined.
Bisconti said big pharmaceutical companies are looking to the biotech sector to acquire new intellectual property, which generally is less financially risky and time-consuming than developing new products internally.
BioMed Realty Trust, with headquarters in Rancho Bernardo, is the 19th-
largest public company with headquarters in San Diego County. The real estate investment trust posted 2012 revenue of more than $518 million, up 18 percent from the prior year.