SPORT: TORREY PINES GOLF TOURNAMENT BRINGS COMPANY, COUNTY EXPOSURE
Farmers Insurance Stays the Course on Sponsorship
Monday, November 25, 2013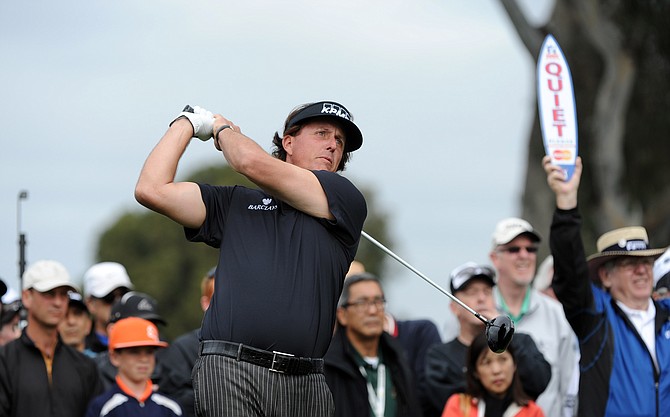 Farmers Insurance was hailed as a white knight coming to rescue when agreed to be the title sponsor for San Diego's biggest golf tournament in 2010.
With the announcement of the insurer extending its sponsorship of the Farmers Insurance Open through 2019, it takes on the role of longtime partner. The additional five years will bring Farmers' relationship with the PGA Tour to a decade.
Farmers was first signed as title sponsor about a week and half before the 2010 tournament after General Motors Co., the parent company of former title sponsor Buick, filed for bankruptcy, severing an 18-year run.
"Farmers Insurance stepped up at a critical time in our history in 2010 to support the event and San Diego community," said Scott Morse, president of Century Club of San Diego, the nonprofit that acts as the host for the event. "To be able to continue our relationship to showcase Torrey Pines and San Diego to millions of viewers worldwide while generating millions in economic and charitable impact furthers our mission."
$24.6 Million Impact
While terms of the agreement weren't disclosed, the benefits from the nationally televised event on Jan. 20-26 at Torrey Pines Golf Course are tremendous, said Peter Ripa, the tournament's director.
"When you're watching on TV at this time of year, the last week in January, when the NFL playoffs are over and before the Super Bowl, it's cold, dark, and snowing and blowing back in the Northeast," Ripa said.
Those lingering shots of golfers amid the stunning backdrop of the Pacific Ocean and the Torrey Pines cliffs provide an incalculable degree of publicity, he said.
More definable is the nearly $13 million in direct spending generated from about 106,000 spectators, many of whom spend multiple nights in local hotels, and spend their cash at restaurants and other retailers over the tournament's week. That direct spending results in nearly $12 million in other spending, resulting in a total economic impact of $24.6 million, according to a report done for the tournament by the Robert Payne School of Hospitality and Tourism Management at San Diego State University. The study found that of those attending the event, 34 percent came from outside San Diego, with the majority of those booking an average of 3.55 nights at local lodges charging an average daily rate of $164.
Ripa threw out another factoid about the Farmers Open: $4 million worth of televised time whenever San Diego and Torrey Pines are mentioned. That number was derived from the total time the names were shown on a TV screen during the four days of live and rebroadcast coverage — on CBS and the Golf Channel — multiplied by the commercial cost of that time, Ripa said.
This year's competition is shaping up to draw at least as much as the 41 million in this country who viewed in January, Ripa said. Defending champion Tiger Woods said he's coming back, and hometown golfing star Phil Mickelson has also committed.
A Varied Sponsor History
Started in 1952 as the San Diego Open, the tournament was played in the first two years in Chula Vista. It's also been held at golf courses in Rancho Santa Fe, Mission Valley, El Cajon and Rancho Bernardo before moving to Torrey Pines in 1968.
For the next 20 years, the late singer Andy Williams lent his name to the event.
In 1981, the tournament began using title sponsorship to offset the rising costs and increase the overall purses for players. Wickes Furniture, which went into bankruptcy in 2008, was the first sponsor and was followed by Isuzu Motors and Shearson Lehman Brothers before Buick lent its name starting in 1992.
Farmers, based in Los Angeles and a subsidiary of Zurich Financial Services, uses the tournament as more than a platform to promote its services. The company holds a series of employee meetings here and brings in some 6,500 agents and staffers, many of whom are being rewarded for hitting their sales targets, Ripa said.