County Construction Projects Down 1% from 2012
Monday, November 25, 2013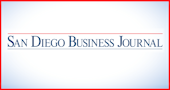 San Diego County's contracts awarded for future construction declined 1 percent from a year ago in the first 10 months of 2013, according to data from McGraw Hill Construction.
Contracts for residential and nonresidential projects had a total value of approximately $2.61billion in the January-to-October period, down from $2.65 billion in the same span of 2012.
Residential contracts were up 34 percent, to $1.26 billion, while nonresidential contracts dropped 21 percent, to $1.35 billion.
Nonresidential projects include office, industrial, retail, hotel, educational and health-care facilities. Residential figures track single-family and multifamily housing projects.
McGraw Hill reported that California's construction contracts rose 2 percent in the first 10 months, to approximately $39.7 billion. Nonresidential projects were up 5 percent and residential contracts rose 18 percent, but the statewide figure was dragged down by an 11 percent drop in nonbuilding projects, including roads, bridges and water supply systems.
— Lou Hirsh