RETAIL: UPGRADES, OPENINGS AND EVEN FREE CHARGING OFFERED
Malls Do More Than Deck the Halls to Bring Back Shoppers
Monday, November 18, 2013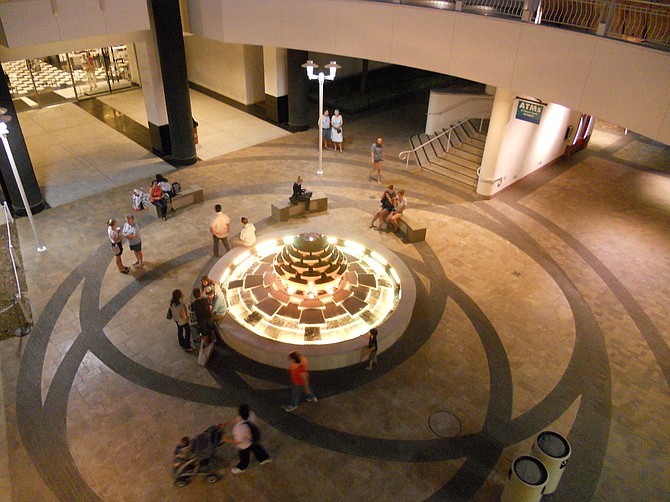 San Diego-area mall operators are looking to tear shoppers away from their computers and mobile devices as much as possible this holiday season — or give them a reason to bring those devices with them.
This year's shopping season comes on the heels of some multimillion-dollar renovations aimed at turning several local malls into attractive social-gathering hubs. Fashion Valley mall in Mission Valley, San Diego County's largest regional mall, has invested more than $15 million in on-site improvements over the past three years, upgrading its seating areas, food courts, restrooms, floors and lighting — and adding electric vehicle charging stations.
Also, acknowledging mobile devices' growing presence in shoppers' lives, it has installed charging stations for those devices throughout the mall. Simon Property Group Inc. (NYSE: SPG), which owns Fashion Valley mall, now offers free smartphone apps to help shoppers track special events and store promotions at its malls, and Fashion Valley this year began a new "personal shopper service," functioning as a concierge to help time-strapped customers manage their gift lists.
So far, Fashion Valley is optimistic.
"We continue to expect a high volume of holiday shopper activity," mall manager Robert Doherty said. "It's too soon to tell, but we are very pleased to see so many people out and shopping. We're seeing lots of bags, which is always a good sign."
Strategies Against 'Showrooming'
Observers say traditional shopping centers and big-box retailers must step up their game on numerous fronts. Besides mobile devices playing a bigger role in holiday buying, stunt promotional events — such as early-morning Black Friday doorbuster bargains — carry less sway with tech-savvy younger consumers.
Less than 25 percent of consumers surveyed nationwide by consulting firm CFI Group plan to spend more than half of their holiday shopping budgets during the Black Friday-Cyber Monday period that follows Thanksgiving, CFI recently reported. Only 21 percent of Millennials — generally adults 18 to 34 — plan to shop at all during this period.
"For people who grew up online, the idea of going to the malls on one specific day of the year doesn't seem to be that important," said Terry Redding, vice president of marketing and product development for Michigan-based CFI Group.
While plenty of shoppers will hit retail centers well before Turkey Day leftovers have been placed in cold storage, a rising number will be browsing for bargains and in many cases completing purchases without leaving home.
Redding said "showrooming," a practice in which shoppers test items in stores before buying them online from another seller, continues to be a problem for retailers, especially for chains that sell electronics, apparel and home décor items.
The big chains are fighting back by installing computer kiosks to let shoppers do their research, in the hopes they'll find the item they want at another location of the same company if it's not already in front of them. They're also equipping sales personnel with mobile devices to do their own price comparisons.
"They're saying, let's see what's available out there, and if we can match the price, let's make it possible for the customer to buy that item in our store instead of going somewhere else," Redding said.
Redding said the recent deal made between Amazon and the U.S. Postal Service, allowing for package deliveries on Sundays, is a sign that online retailers are looking to better fulfill shoppers' desire for "instant gratification" seven days a week, now only available at brick-and-mortar stores. This will also likely allow more gifts to be delivered at the last minute before Christmas.
Far from making physical stores unnecessary, the 24/7 online buying environment could actually make those stores more important as places to fulfill orders, as most retailers have more stores than regional warehouses from which to reach certain geographic regions.
"Increasingly, when you order online, it's going to be fulfilled at the same store that you could have walked into yourself," said Mitch Roschelle, real estate advisory practice leader for consulting firm PwC.
Retail Space Vacancy Still Low
The National Retail Federation, a Washington, D.C.-based trade group, has projected that overall U.S. holiday spending this season will rise 3.9 percent from a year ago, to more than $602 billion. Online holiday sales are expected grow 13 to 15 percent, reaching $82 billion.
Experts note that local and national consumer spending is rising with improvements in the overall economy, including the housing market, with retailers anticipating momentum from a strong back-to-school period to continue into the holiday season.
In San Diego County, consumer spending is translating into retail space absorption and rent increases in high-demand submarkets. The local region's retail vacancy rate in the third quarter was 7.1 percent, still among the lowest for major U.S. metro markets, brokerage company CBRE Inc. reported.
The county's average local rental rate was $1.84 per square foot — up 3 cents for the quarter and 11cents from a year ago — as several national and regional retail and restaurant companies continued to seek new locations.
New arrivals at several of its local malls make Westfield Group "cautiously optimistic" about its holiday season prospects, said Danny Olivas, vice president of marketing for the company's Western division.
Westfield in recent years has done significant renovations of nearly all its seven San Diego County malls. Recent and upcoming openings include a Jimbo's Naturally store at downtown's Westfield Horton Plaza, The Cheesecake Factory at Westfield North County in Escondido, and a new location of San Diego-based home furnishings retailer Pirch, formerly known as Fixtures Living, at Westfield UTC.
"We are using mobile apps to help people find out what's happening at our centers during the holidays," Olivas said. "We've got a lot of new things this year."