PHARMA: ZOGENIX RAISES FUNDS AND BOLSTERS SALES FORCE
Drugmaker Prepares for Launch of Painkiller
Monday, November 18, 2013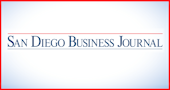 San Diego-based Zogenix Inc. plans to use most of the proceeds from a recent $60 million public offering to triple its sales force and commercialize its newly approved narcotic painkiller, Zohydro.
The company will add 100 drug representatives across the country, bringing the total to about 150, CEO Roger Hawley said. The company plans a full commercial launch of Zohydro, an extended release version of pure hydrocodone, in March 2014.
The company didn't disclose how much the drug will cost when it hits the market, saying only that it will be competitive with branded products such as OxyContin, which costs about $140 for a two-month supply.
Hawley also didn't say how much money has been invested in developing Zohydro, but that its costs included licensing the product from Irish drugmaker Alkermes Plc, conducting several studies that include two large Phase 3 trials, and undergoing an extensive and costly review by the U.S. Food and Drug Administration.
The company has also committed to the FDA to complete a range of post-marketing actions, including more long-term clinical studies, ongoing education initiatives for prescribers and patients, and proactively monitoring the safe use of the product after launch, Hawley said.
The company will task its heightened sales force with marketing directly to doctors who already prescribe high levels of painkillers, Hawley said.
Also, Zogenix (Nasdaq: ZGNX) will use some of the proceeds to work with Montreal-based Altus Formulation Inc. to create a form of Zohydro called an "abuse deterrent" that prevents misuse of the drug. Hawley expects that new formulation to be ready in about three years.
Regulatory Hurdle Cleared
Zogenix has faced an arduous path to regulatory approval for Zohydro.
A panel of pain specialists found last December that Zohydro had a high likelihood of causing abuse and dependence, saying it was three to four times more likely to be abused by patients than drugs such as oxycodone.
Nevertheless, the drug received FDA approval in October.
Since then, the drug has been classified a schedule II controlled substance — the most regulated and restricted form of prescription medications, because of its abuse potential. Similar opioid drugs like Vicodin may also receive this more stringent form of classification as well.
Government figures cite that some 131 million prescriptions of hydrocodone were filled in 2011 — making it one of the most commonly prescribed drugs in the country.
Zohydro is the first formulation of hydrocodone that doesn't contain acetaminophen. The company has positioned Zohydro as a much-needed alternative to standard prescription pain relievers that contain acetaminophen, since their prolonged use can result in liver damage. Acute liver failure most commonly occurs from consuming excessive amounts of acetaminophen, studies have shown.
But Zohydro can only be prescribed when all other forms of pain management medication have been found inadequate, the company said in a regulatory filing.
Expansion Plans
Zogenix was founded in 2006 and went public in 2010. It employs about 100; Hawley said it hopes to expand to about 240 employees by the end of next year.
Zogenix licensed Zohydro in 2007 and began Phase 3 clinical development in 2008. Its targeted FDA approval was this past March, but the approval date was delayed as regulators debated the potential for abuse of drugs such as Zohydro.
In the interim, Zogenix laid off 37 percent of its staff — about 55 workers — to preserve funds, making cuts across the board in its San Diego and Bay Area locations.
Zogenix also released its third-quarter earnings. The company lost $10.8 million in the three months ended Sept. 30, compared with a $19.3 million loss in the like quarter in 2012.
Zohydro also markets the Sumavel DosePro, a needle-free injection that delivers a migraine and cluster headache medication called sumatriptan. It's also creating a monthly injection for the schizophrenia medication risperidone.