PROPERTY: IRVINE CO. IS SELF-FINANCING $100M PROJECT
Confidence Helps Build New UTC High-Rise
Monday, November 18, 2013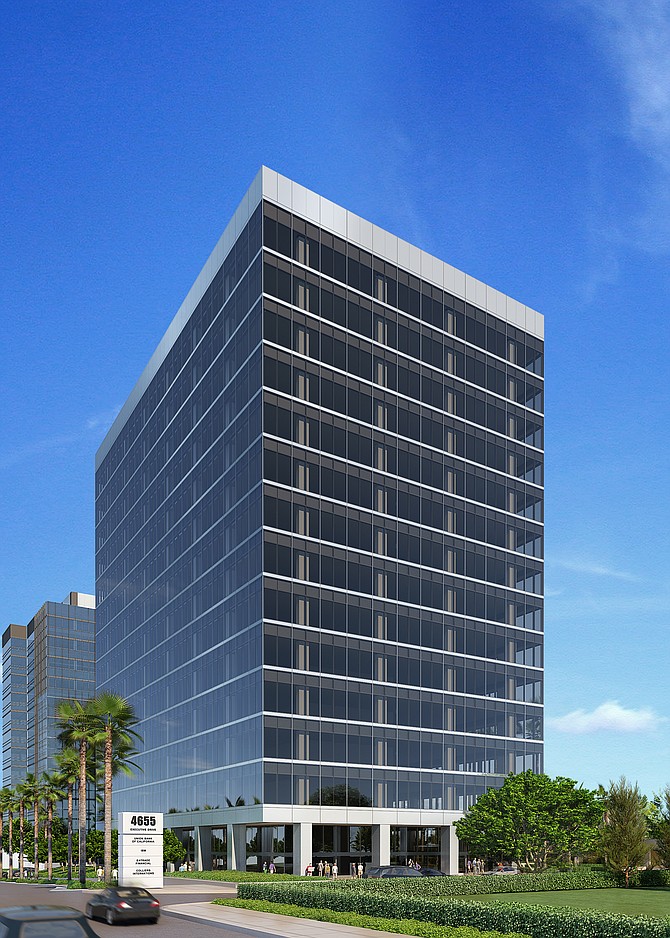 Irvine Co., San Diego County's largest office landlord, recently began work on La Jolla Centre III, a 15-story office tower at University Towne Center. The tower, being built largely on spec, will be Irvine Co.'s first new-construction high-rise project since it entered the local market 30 years ago.
Douglas Holte, president of Irvine Co.'s office properties division, said the company will invest more than $100 million in the project, which represents a calculated bet on supply-and-demand variables that have been moving in favor of UTC landlords for several quarters.
Newport Beach-based Irvine Co. owns 4.3 million square feet of office space at UTC, including about half of all the available Class A space in that neighborhood. UTC's office vacancy rate, at 7.3 percent, is now about half that of the county's 14 percent, according to brokerage services provider CBRE Inc.
Thanks to Irvine Co.'s size and long history in Southern California — it was founded in 1864 — it is also able to fully self-finance its projects, a luxury not available to most developers in a still-tight construction-funding climate. La Jolla Centre III will be the second new high-rise built at UTC since 1989, following Houston-based developer Hines' new 13-story tower nearing completion at the nearby La Jolla Commons.
Unlike the Hines building, which will be fully occupied by LPL Financial in 2014 as it consolidates operations from other UTC sites, Irvine Co. has not pre-leased its newest project. Holte said the company has fielded informal queries from numerous companies interested in occupying the building.
That includes the professional services providers who currently dominate the UTC market — such as banking, insurance, investment brokerage, real estate and law firms — and technology companies which in recent years have migrated to UTC after being crowded out of neighboring submarkets like Sorrento Mesa and Torrey Pines.
"We also have access to a large existing tenant base that keeps us apprised of their future needs, in addition to the general market information that everyone has access to," Holte said.
Irvine officials note that the company's current office portfolio in UTC — 39 buildings at nine locations, including low-, mid- and high-rise structures — is 94 percent leased. The high-rise portfolio at UTC is 95 percent leased, and there are no full floors available in those buildings.
Limited Spec Building Expected
Local brokerage experts said the new Irvine project does not likely herald the arrival of a new era of speculative office building. Nevertheless, an improving economy could spur more buildings to sprout in high-demand submarkets where demand and rents have been rising while vacancy rates have been falling for the past several quarters amid sparse new construction.
For the near term, speculative development will likely be concentrated in the most high-demand markets, such as Sorrento Mesa, Del Mar Heights and Carmel Valley. Los Angeles-based Kilroy Realty Corp., the local region's second-largest office landlord, has said it is mulling new spec projects in those neighborhoods, where it already has a large presence.
"There's a lot more interest in projects in the office sector right now," said Brett Ward, senior vice president in the San Diego office of brokerage services provider Cassidy Turley. He noted that construction lending has recently been moving beyond the long-popular multifamily segment, though developers must still be well-capitalized.
"We had over a million square feet of office absorption last year; we're on track for another 1 million this year, and we're still seeing good job growth," Ward said of the countywide market.
Bess Wakeman, executive vice president in the San Diego office of brokerage company Jones Lang LaSalle Inc., expects spec projects to remain limited to the largest national and regional players — like Irvine Co., Kilroy and Hines — that have the financial strength to cover the bulk of project costs.
"A company like Irvine Company has the advantage of not having to get a big construction loan to do its projects, but most developers need to get financing," Wakeman said.
The new Irvine high-rise will likely be most attractive to financial services companies, she said, while tech and biotech firms at UTC have generally been drawn more to low- and mid-rise campuses.
Wakeman noted that UTC's office vacancy rate has dropped sharply from 25 percent seen in 2009, in part through aggressive price cutting by Irvine Co. to bring in new tenants. UTC rents, currently averaging about $3.06 per square foot, have been rising steadily in recent quarters but have yet to return to their 2007 peak of $3.87.
New Tower's Impact on Mid-rises
While the new La Jolla Centre III tower by itself will not drastically impact the supply dynamics at UTC, Ward said brokers will be watching to see what becomes of about 400,000 square feet of UTC mid-rise space that LPL Financial will be vacating when it moves to the Hines tower. That space, much of it in and near Irvine Co.'s Eastgate Technology Park, could be competing for tenants with Irvine's new tower.
Holte said Irvine Co. also plans to invest about $5 million in renovations to its mid-rise Eastgate and Bridge Point developments at UTC. The two adjacent campuses will be placed under the single Eastgate banner following the addition of firepits, green spaces, walkways and related on-site facility upgrades.
Irvine Co. developed UTC's mid-rise La Jolla Gateway and Eastgate projects, but otherwise acquired most of its local portfolio, including the two-building La Jolla Centre complex. Grading and infrastructure work is underway on the new 306,000-square-foot tower, which will bring the company's countywide office portfolio to nearly 8 million square feet when completed in mid-2015.
Irvine Co. is counting on continued growth of the UTC market, where several developers have built retail and office elements that have created a self-sustaining mixed-use neighborhood over the past three decades, said Thomas Sullivan, the company's group senior vice president of office development and construction.
Sullivan also pointed to upcoming city transit extensions being planned for UTC and Irvine Co.'s ownership of nearly 1,500 apartments at three communities within a mile of La Jolla Centre III. The new tower, designed by New York-based Pei Cobb Freed & Partners, will be built to attain at least silver LEED certification, with its own parking structure that will be unobtrusive with surrounding green spaces.
Sullivan said the building, on 4.7 acres at La Jolla Village and Judicial drives, will have a "flexible floor plan" with large amounts of perimeter glass to provide natural lighting, open work areas, outdoor event spaces and other amenities in demand among technology and other young workers.