Developer OliverMcMillan to Start Work On Honolulu Condo Tower
Thursday, November 14, 2013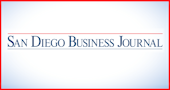 San Diego-based developer OliverMcMillan plans to break ground Nov. 20 on a 388-unit, mixed-use condominium tower in Honolulu. The company has secured a $120 million construction loan for the 45-story, 3.5-acre project, known as Symphony Honolulu.
Company officials said earlier this year that OliverMcMillan is moving forward with plans for luxury and mixed-use residential developments representing a total $2 billion investment, in San Diego, Houston, Atlanta, Honolulu and Tempe, Ariz. That includes The Lofts at 688 Thirteenth Street in downtown San Diego.
Symphony Honolulu will have market-rate and reserved residential units, with commercial space on its lower floors that will include an auto showroom for JN Automotive Group. OliverMcMillan said construction will take approximately 25 months and is expected to create 400 construction-related jobs, with 100 to be employed at the retail and auto center.
— SDBJ Staff Report