Organovo Issues Q2 Results; Reports $50M in Cash Reserves
Wednesday, November 13, 2013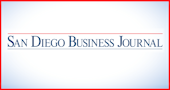 Shares for San Diego biotech Organovo Inc. jumped as much as 17 percent in day trading after settling in at a 4 percent increase following the company's release of its second quarter results.
The development-stage company, which develops 3-D bioprinting technology, reported $23,000 in revenue for the quarter ended Sept. 30. It reported net losses of $10.4 million.
Organovo (Nyse: ONVO) reported $50 million in cash reserves and plans to use the funds to ramp up research and development efforts. CEO Keith Murphy said in an earnings call that the company is on track to release its first product — a drug toxicity test that uses liver tissues synthesized by Organovo's 3-D bioprinters — commercially next year.
The company began the year trading at $2.36, and has since more than tripled closing at $9.36 on Nov. 12. It also upgraded from the over-the-counter markets to the New York Stock Exchange in July and completed a $46.6 million public offering in August.
— SDBJ Staff Report