TRAVEL: MARRIOTT MAKEOVER PART OF TREND OF PROPERTY UPGRADES
The Guest Quest
Monday, November 11, 2013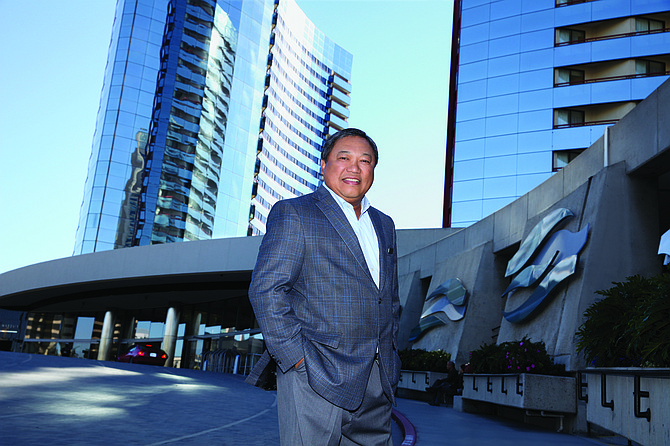 Downtown's San Diego Marriott Marquis & Marina is in the midst of a long-term $200 million makeover that, by the time it's done in mid-2016, will leave it practically unrecognizable from the property that first opened in 1984.
From 2009 to 2011, Maryland-based owner Host Hotels & Resorts Inc. remodeled most of the property's 1,360 rooms, installed a new fitness center and business services center, and completely redid the property's lobby, restaurants, lounges and pool cabanas. The next phase, to begin in late 2014, involves tearing down its centerpiece Marriott Hall ballroom and replacing it with two larger event spaces, along with improvements to its exterior waterfront promenades.
"When it's finished, there really isn't a lot that will not have been redone," said Jan Hulahan, the property's director of sales and marketing.
The Marriott's is the largest hotel renovation in progress, among several underway at local hotels large and small. Leading the renovation wave are the San Diego region's three largest hotels by room count — representing a total of 4,175 rooms — all clustered around the San Diego Convention Center, which itself is poised to undergo a $520 million expansion once legal hurdles are cleared.
Several such projects stem from a desire to stay competitive by investing in improvements while costs are still relatively low, in order to reap returns on those investments as the hospitality economy continues to rebound from the dark days of the Great Recession, observers say.
"If you're not renovating or improving your property, you're going to get left way behind," said Alan Reay, president of hotel brokerage and consulting firm Atlas Hospitality Group of Irvine.
Keeping Up to Date With Market
Next-door to the Marriott, owner Host Hotels is also in the midst of extensive improvements to the region's largest property, the Manchester Grand Hyatt San Diego, which earlier this year completed renovations to its 1,625 guest rooms, opened a new FedEx business services center and added a new executive level lounge with a design inspired by the USS Midway.
The Grand Hyatt opened in 1992 and added a second tower in 2003. On tap for 2014 are improvements including upgrades to the property's meeting facilities, restaurants and public spaces, including its Top of the Hyatt lounge on the 40th floor, Sales and Marketing Director Michael Kofsky said.
While Grand Hyatt operators have not disclosed an exact cost for the renovations, local industry observers have estimated the investment at $100 million.
"These improvements are being done to keep the property up to date with what's happening in the market," Kofsky said. "The owner is also doing what it believes will keep this the premier hotel in San Diego."
Aiming to Be More Family-Friendly
At the nearby Hilton San Diego Bayfront hotel, a relative newbie that opened in 2008, majority owner Sunstone Hotel Investors Inc. of Aliso Viejo and operator-minority owner Hilton Worldwide are not standing still. The 1,190-room hotel plans a $200 million expansion — contingent on the convention center project moving forward — that would add 500 rooms and vault the Hilton to the head of the pack for local room count.
Earlier this year, the Bayfront Hilton completed a $5 million renovation aimed at making the property more family- and leisure traveler-friendly, especially when convention season is at low ebb during summer months. There is a new outdoor events plaza, a children's pool and waterslide, and an open-air bar and lounge called "The Pool Club: A Siren's Call."
"We knew we had this great location on the waterfront, but there was a feeling that we needed to better capitalize on that," said Donovan Henson, sales and marketing director for the property and two others directly managed by Hilton — the Hilton La Jolla Torrey Pines and Doubletree by Hilton San Diego Mission Valley.
Henson noted that operators spent about $29 million in improvements on those three Hilton properties, primarily to reposition them in their respective markets to appeal to a wider range of customers.
Smaller Hotels Also Updating
The fixups are hardly limited to the biggest properties. Andaz San Diego, a 159-room boutique property in the Gaslamp Quarter, is in the midst of nearly $1.2 million in renovations, aimed at bolstering its standing in the nightlife-centric Gaslamp.
Improvements include a new retractable roof, which operators said will enable the property to hold more year-round events in its newly named "RoofTop600 at Andaz" space. Its former "Ivy Nightclub" downstairs has been converted to rentable private-event space for groups.
Andaz San Diego Sales Director Kris Umstattd said the renovations, to be finished in first quarter 2014, help address challenges of garnering group business at a time when corporate and organizational spending is still below pre-recession levels. It's also about keeping up with changing trends in nightlife offerings.
"It had reached a point where it was just time for a revamp," Umstattd said. "Some of the concepts in properties like this generally have a five to seven-year life cycle."
Other notable renovations include a $10 million project underway at the historic 112-room La Valencia Hotel in La Jolla, operated by San Diego-based Pacifica Host Hotels; and a $12 million makeover recently completed at The Inn at Rancho Santa Fe, an 80-room historic property owned by JMI Realty, led by former San Diego Padres owner John Moores.
Hospitality Recover in Midgame
Hotel consultant Robert Rauch, whose company manages several hospitality properties for clients in several regions, said all six local hotels under his firm's direct management are undergoing some form of update, ranging from minor tweaks to major repositioning makeovers.
Rauch said the hospitality industry's recovery is "early in the fifth inning," with construction and borrowing costs still historically favorable, and owners generally want to time renovations to benefit later as room prices rise in a growing economy. Rising income helps raise hotel property values, which also helps owners refinance loans and invest in more competitive improvements.
"You want to move forward with a renovation as early as possible in a recovery, so that you can see a better return on your investment in the long run," said Rauch, president of San Diego-based R.A. Rauch & Associates Inc.
Reay at Atlas Hospitality Group noted that some renovations in the current market are being completed after years of being delayed by the economy. In some cases, operators of small-format franchised brands are being pressured by the franchise owners to boost their standards or risk having their operating agreements discontinued.