Acadia Pharmaceuticals Reports Net Loss of $10.7M for Q3
Thursday, November 7, 2013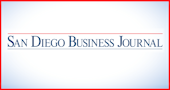 San Diego-based Acadia Pharmaceuticals Inc. reported a net loss of $10.7 million in its third quarter earnings this year — an increase from its $2.4 million loss in the third quarter of 2012.
For the nine months ended Sept. 30, Acadia (Nasdaq: ACAD) reported a net loss of $25.9 million, compared to a net loss of $14 million for the like period of 2012.
However, the company's cash, cash equivalents and investment securities on hand has increased to $196.2 million as of Sept. 30, 2013 — up from $108 million on Dec. 31, 2012. The company attributes this increase to the $107.9 million in net proceeds it raised from a public stock offering in May 2013, which is being used to fund the company's operations. It said that it expects to have $183 million in cash, cash equivalents and investment securities by December 31 this year.
Revenues decreased to $240,000 for the third quarter of 2013 from $3.5 million in the like quarter of 2012 due to the termination of Acadia's collaboration with Japanese drugmaker Meiji Seika Pharma in Junly 2012.
The earnings were released after market close on Nov. 6, when shares were at $21. It had dropped 7 percent, or $1.65, in the hours preceding the announcement. The company had a market capitalization of $1.86 billion.
Though in the past month the company's stock has fluctuated wildly — it peaked Oct. 2 at $28.84 — Acadia's stock value has risen dramatically this year. It began 2013 trading at $4.75 per share. Analysts have attributed the company's stock fluctuation to uncertainties attached to the federal debt ceiling, as well as rumors — confirmed to be correct — that the company's losses would widen in the third reporting quarter.
The company's drug, pimavanserin, treats psychosis related to Parkinson's disease. The drug is in Phase 3 trials, and has largely shown positive results. The company plans to file a new drug application with the U.S. Food and Drug Administration by the end of 2014.

— Meghana Keshavan