Sanford's $100 Million Gift Launches Stem Cell Center at UCSD
Tuesday, November 5, 2013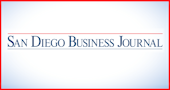 Businessman and philanthropist T. Denny Sanford has committed $100 million to create the Sanford Stem Cell Clinical Center at University of California, San Diego.
The donation is the second largest UC San Diego has ever received, following only the $110 million gift given 10 years ago by Qualcomm Inc. co-founder Irwin Jacobs and his wife, Joan.
The new Sanford Center is aimed toward accelerating development of drugs and cell therapies inspired by and derived by current human stem cell research, the university said in a Nov. 4 press conference.
The center will integrate operations at four places — the UC San Diego Jacobs Medical Center and a nearby proposed clinical space, both scheduled to open in 2016; the UC San Diego Center for Advanced Laboratory Medicine and the Sanford Consortium for Regenerative Medicine.
Sanford, a South Dakota businessman who owns a home in La Jolla, is the founder and owner of Sioux Falls, South Dakota-based First Premier Bank. He has donated more than $1 billion to health and child-related charities, including a $30 million gift in 2008 to develop San Diego's Sanford Consortium for Regenerative Medicine, which opened in 2011. He also donated $70 million to what is now named the Sanford-Burnham Medical Research Institute in La Jolla.
The new Sanford center will help San Diego scientists from UC San Diego, Sanford-Burnham, the Salk Institute for Biological Studies, The Scripps Research Institute and the La Jolla Institute for Allergy & Immunology to collaborate on bringing stem cell therapies to patients.
— SDBJ Staff Report