INSURANCE: FIRM PLANS TO KEEP OFFICE, LEADERSHIP INTACT
Acquisitive Insurance Co. Buys G.S. Levine
Monday, November 4, 2013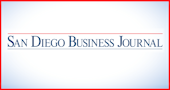 Arthur J. Gallagher & Co., one of the nation's largest insurance brokerages, has acquired San Diego-based G.S. Levine Insurance Services for an undisclosed price.
"We looked at different deals in San Diego before we did this one," said Jim McFarlane, the leader for Gallagher's retail property casualty brokerage operations for the West region. "They are a great match for us and we will continue to expand there."
G.S. Levine Principals Gary Levine and Ross Afsahi, along with all the employees, have been retained to head the local office, the company said.
McFarlane declined to reveal G.S. Levine's annual revenue but confirmed it had about 50 employees, the same number it's maintained in the last several years. G.S. Levine was ranked No. 5 among brokerages on the San Diego Business Journal's List of the Largest Property/Casualty Insurance Agencies. Last year, G.S. Levine reported handling $75 million in premium volume for 2011.
Brokerages act as intermediaries for companies, finding the best rates for their insurance needs from large carriers or from private insurance pools.
Gallagher (NYSE: AJG), based in the Chicago suburb of Itasca, Ill., is one of the more acquisitive public insurance brokerages. In the third quarter, it announced completing eight brokerage purchases which had annualized revenue of $135.5 million. Through the end of October, it has made 17 acquisitions in 2013.
For its third quarter, Gallagher reported total adjusted revenue of $696 million; for the nine months, its adjusted revenue was $2 billion.
J. Patrick Gallagher, the company's chairman, president and CEO, said the company's acquisition program "had a tremendous quarter." He noted two major purchases. New Jersey-based Bollinger Inc., acquired in August, had about 500 employees and was generating about $100 million in revenue annually.
Gallagher also acquired London-based Giles Group of Cos., with about 1,100 employees and 43 offices in England, Scotland, Wales and Northern Ireland.
All totaled, Gallagher operates some 400 offices in 20 countries.
Founded in 1987, G.S Levine provided property-casualty, employee benefits and risk management insurance services for clients throughout the West. It specialized in serving the real estate, health care, food processing, manufacturing, technology and financial services industries.
"Their client-focused culture, solid San Diego presence and depth of experience will be an excellent complement to our western region brokerage operations," Gallagher said in a news release.