Northrop Grumman's New Version of Unmanned Helicopter Makes 1st Flight
Friday, November 1, 2013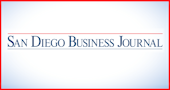 A new version of the U.S. Navy's unmanned helicopter made its first flight on Oct. 31 at Naval Base Ventura County in Point Mugu.
It was a milestone for Northrop Grumman, the prime contractor on the project, which did much of the program and software work in Rancho Bernardo.
The aircraft flew for seven minutes to validate the autonomous control systems. A few hours later, the Navy sent the aircraft up for a second flight.
Northrop Grumman calls the unmanned helicopter Fire Scout. The MQ-8C model Fire Scout is based on a standard Bell model 407 helicopter, which is modified to fly without an onboard pilot.
The original MQ-8B Fire Scout is based on a smaller, Schweizer helicopter. The new model has double the endurance (more than 15 hours) and triple the payload capacity (more than 2,600 pounds) of the original.
The Navy wants to take the new helicopter to sea aboard its ships. Initial operating capability is set for 2016, though the aircraft could be deployed as early as next year.
— SDBJ Staff Report