U-T San Diego Ceases Publishing The Californian
Thursday, May 30, 2013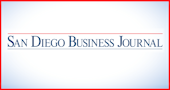 U-T San Diego announced Tuesday it will stop publishing The Californian, a daily section which covers Temecula and southern Riverside County.
Ten employees were laid off, including several journalists and members of its sales team, but the U-T will continue to have an office in Temecula, KPBS reported.
The U-T acquired two papers, The North County Times and The Californian, in September 2012 for $11.95 million.
"The U-T is finalizing its transition following the North County Times acquisition," it said in a statement.
The Californian will be replaced by a section in the U-T dedicated to Southwest Riverside, as part of its North County section, the U-T said in a statement.
"As a result, you will notice some changes in tomorrow's newspaper that reflect our ongoing evolution to best meet the needs of our readers and advertisers," U-T San Diego CEO John Lynch wrote in a memo to staffers. "While these decisions are difficult, they are necessary to ensure we operate our business with an optimum allocation of resources and maintain the long-term health of our company."
As of March, the U-T had a daily print circulation of 192,782 – the 23rd largest in the country, according to the nonprofit Alliance for Audited Media. Including digital subscriptions, the paper's daily circulation is 250,678.
Its Sunday edition, by comparison, has a print circulation of 290,115 and a cumulative circulation of 409,786 – the 18th most-read in the country.
— Meghana Keshavan