NEWS AND NOTES FROM COMMUNITIES AROUND SAN DIEGO COUNTY
Regional Report
Monday, May 27, 2013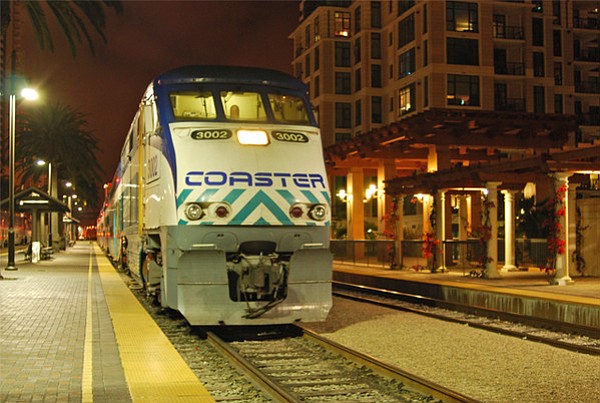 OCEANSIDE
Transit District Adding Late-Night Train During Fair
For the first time, North County Transit District will offer daily late-night Coaster train service during the San Diego County Fair.
The "Summer Nite" train will operate from June 8 through July 6, two days beyond the end time for the Del Mar fair, according to a statement from the Oceanside-based public transportation agency.
The southbound train will depart Oceanside at 10:30 p.m., arriving in downtown San Diego at 11:34 p.m. The northbound train will leave Santa Fe Depot at 11:45 p.m. and arrive in Oceanside at 12:45 a.m.
For both routes, free shuttles will take passengers directly from the Solana Beach Coaster station to the fairgrounds. The transit district is offering discounted "Fair Tripper" combo tickets that include round-trip transportation and fair admission, with more details available at GoNCTD.com.
Transit district Executive Director Matthew Tucker said the service is being offered as a convenience to fairgoers and to help alleviate traffic congestion along Interstate 5.
— Lou Hirsh
CARLSBAD
City to Seek Proposals for Development Near Golf Course
The city of Carlsbad will seek requests for proposals to develop portions of The Crossings at Carlsbad adjacent to the city-owned golf course.
City council recently voted to authorize the Carlsbad Financing Authority to issue a request for proposals to develop, through ground-lease arrangements, the West View Lot 9 at The Crossings, consisting of two parcels totaling approximately 3 acres. The financing authority will evaluate proposals from prospective developers and make recommendations to city leaders.
The measure also authorizes the city to administer and manage any long-term leases and distribute lease revenue to member agencies of the Carlsbad Public Financing Authority.
The city-owned land is currently used for overflow parking at The Crossings. It is among several underutilized municipal properties that the city is looking to put to use for commercial and related development.
— Lou Hirsh
ESCONDIDO
Stone Brewing Opens Bistro at Liberty Station
Stone Brewing Co., based here, opened a World Bistro and Gardens at Liberty Station, the former Naval Training Center near Point Loma earlier this month.
The 23,500-square-foot space, with elements of a German style rathskeller and the brewery's distinctive gargoyle logo, incorporates a 10-barrel brewery with an expansive dining area that has room for 600 guests.
The hours are Monday through Thursday, 11 a.m. to 11 p.m.; Friday and Saturday, 11 a.m. to 12 a.m., and Sunday 10 a.m. to 11 p.m.
— Mike Allen
CHULA VISTA
Drew Pearson Signs As Youngevity Ambassador
Youngevity, a wholly owned subsidiary of AL International Inc., said former NFL football star Drew Pearson was signed as a celebrity ambassador and as a member of Youngevity's athletic advisory board.
Pearson was a three-time Pro Bowl all-star and played his entire 11-year professional career with the Dallas Cowboys.
Youngevity is a direct seller of nutrition and products, and coffee. In other news, AL International reported first quarter net income of $1 million, compared with a net loss of $855,000 for the like quarter of 2012. Revenue came in at $15.9 million, up 31 percent from the like quarter of last year.
— Mike Allen
TEMECULA
Pechanga Adds to Region's Bingo Halls With New Facility
Pechanga Resort & Casino officials announced that they will be opening a large-scale bingo hall, further adding to the resort/casino's extensive gaming amenities, slated to open in July 2013. Encompassing an existing 14,000-square -foot area of the resort, guests will find the state-of-the-art bingo area on the second floor, across from the Pechanga Poker Room. The Pechanga Band of Luiseño Indians opened their original bingo facility in 1995 in a location now adjacent to the existing resort/casino property.
— Stephanie R. Glidden