REAL ESTATE: CHOICES ABOUND FOR CLASS B AND C, CLASS A REMAINS SCARCE
Local Office Submarkets' Vacancy Rates Vary By Region and Class
Monday, May 27, 2013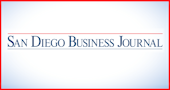 San Diego County's real estate recovery is being felt in different ways, depending on the neighborhood. Here's how local commercial brokers view trends in some prominent local office submarkets.
Downtown San Diego: Overall transaction activity so far this year is up by around 25 percent compared with two years ago in the downtown office market, according to Tim Cowden, senior vice president in the San Diego office of Colliers International.
There is wide variance in vacancy however, with Class A space 17 percent vacant, Class B at 24 percent vacancy and Class C at 33 percent. That means numerous choices remain available for tenants, especially smaller businesses.
"There is still a lot of back-filling taking place by small, Internet-oriented firms of 20 to 30 employees, taking up spaces of 1,500 to around 4,000 square feet," said Cowden, noting that a portion of those smaller companies in the long run could grow to the point where they need 10,000 to 20,000 square feet.
Some of those firms are taking up spaces vacated in recent years by intellectual property law firms, which have relocated their IP-focused operations northward to markets such as Carmel Valley and Sorrento Mesa, to be closer to their technology-oriented clients.
Other companies besides law firms have departed downtown or consolidated operations there during the past three years, and more of that is in the works. Cowden said downtown rents and vacancy rates are likely to remain flat for the foreseeable future, until more of that vacated space is occupied.
University Towne Center: This is a tale of two property types, with high-rise towers and low-rise "campus" style buildings witnessing different scenarios in the early months of 2013.
"The high-rise multi-tenant buildings are doing extremely well right now," said Mike Hoeck, first vice president in the San Diego office of CBRE. "The low-rise multi-tenant buildings are not."
Hoeck noted that there are 23 buildings, mostly in the low-rise category, each with more than 40,000 square feet of available space being marketed, including empty spaces where the landlord is still drawing income from leases that remain in effect. There is a total of about 1.6 million square feet of UTC space fitting this description.
Meanwhile, space continues to tighten up in UTC's high-rise towers. Hoeck said Irvine Co., the region's largest office landlord, has seen 12 consecutive quarters of positive absorption at UTC, enabling three rent increases in the past 18 months. Class A high-rise rents could continue to rise later this year at UTC, as large blocks of space become scarcer.
Mission Valley: This submarket has recently been the beneficiary of firms looking for relatively inexpensive space in a central submarket with freeway access. But it has come at the expense of other neighborhoods.
Derek Hulse, associate vice president with Colliers International, pointed to two big recent deals contributing to continued tightening in the Mission Valley office market. Liberty Mutual Insurance is leaving downtown and is in the process of moving its local operations to one 50,000-square-foot space in Mission Valley; and the county's water authority plans to move some of its water-quality operations out of Kearny Mesa, to occupy a 24,000-square-foot space in Mission Valley.
Hulse said large-space availability in the submarket is tightening to the point where new construction could be moving forward within two years. Large office projects in the works include a mixed-use development being planned by U-T San Diego owner Douglas Manchester.
Del Mar Heights: The overall vacancy rate in this high-demand submarket stands at 16.2 percent, according to CBRE, but big blocks of space are now undergoing renovation. "We are seeing some of the first redevelopment of office projects in decades due to the lack of large blocks of available Class A space in Del Mar Heights," said Chris Pascale, senior vice president with CBRE.
For instance, building owner TIAA-CREF has demolished its Del Mar Corporate Plaza, a Class B asset, which is being developed as new Class A office space to meet continued demand. The submarket's Class A average asking rental rate of $3.60 per square foot is nearing the peak of $3.90 seen in the third quarter of 2008, according to CBRE.
Kearny Mesa: Hulse noted that Kearny Mesa now has one of the region's tightest Class A vacancy rates, at 7.4 percent, and its overall vacancy rate, at 11.75 percent, is well down from the 15 percent seen in 2009. New construction in the submarket remains scarce.
There are still numerous options for smaller firms willing to occupy older buildings. "There is a glut of multi-tenant B- and C-class buildings in Kearny Mesa," Hulse said, noting the Class C vacancy rate is at 18 percent.
Sorrento Mesa: CBRE reported that average asking rents in the submarket have returned to peak levels seen in the first quarter of 2008. The direct vacancy rate is now below 10 percent — at 9.7 percent — signaling a landlord-favored climate when it comes to large spaces.
"Qualcomm is Sorrento Mesa," said Hoeck, noting the wireless tech giant has 180,000 square feet of active lease requirements and nearly 600 local job openings. "Qualcomm is fueling absorption, new construction and organic growth by companies within the submarket that do business with them."