TECH: FIRMS FIND WAYS TO GIVE WORKERS SECURE ACCESS TO DATA
The Line Between Business and Personal Devices Is Blurring
Monday, May 20, 2013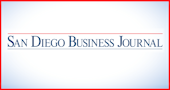 When Cadence Pharmaceuticals Inc. saw that it was time to retire the laptop computers that its sales force carried, it set foot in the growing world of BYOD.
That is a semi-technical abbreviation for Bring Your Own Device.
It's a concept that has employees bring their personal tablet computers, laptops or smartphones to work, where they tap into the company computer system. BYOD can also apply to visitors to a company campus. Vendors or customers can use the common network and — assuming that everything goes right — are prevented from doing any mischief.
The BYOD experience has been "both exciting and extremely frustrating," said Bob Cohen, vice president for information technology at Cadence Pharmaceuticals, which has about 230 employees and markets an intravenous pain reliever to clients such as hospitals. The company reported $50.1 million in revenue in 2012.
Cohen made his remarks during a recent breakfast meeting convened by CommNexus San Diego, a local technology industry association.
Companies that offer applications for BYOD are typically young and their products are apt to "change every month," the executive said. And though using the products can sometimes be trying, Cohen identified himself as "a big fan of Box." Box is a venture-backed, Silicon Valley company whose software stores files in the cloud for retrieval by all sorts of devices.
BYOD is "top of mind for a lot of IT organizations," said Jim Matteo, CEO of technology integrator Bird Rock Systems, who moderated the panel discussion.
Those who are more cynical about the technology may say that BYOD really stands for "bring your own disaster," Matteo said.
The Risks
There are risks to the technology, and security can be one of those risks. Not only can prying eyes get to confidential data. Personal devices can serve as what Matteo called a "malware relay" to the company computer.
However, the technology also presents opportunities, Matteo said.
People working on their own gear seem to take better care of their equipment, Matteo told his audience; there is a decrease in broken devices. Employees working with their own gear may work longer and report higher job satisfaction, he said.
Information technology research house Gartner Inc. predicts that 70 percent of mobile professionals will conduct their work on personal smart devices by 2018.
Neil Palmer, senior director of technology services for Tapestry Solutions Inc., described his company's implementation of BYOD. Tapestry Solutions is a San Diego-based division of Boeing with 800 employees. Boeing, which is also a defense contractor, is "hypersensitive to security" Palmer told the audience.
Cohen said his company took a serious look at Windows 8, Microsoft's new tablet-friendly operating system. The Windows product has "real positives" when it comes to security, Cohen said.
Separating Business, Personal Data
One important consideration in using an employee's device is separating personal data from corporate data.
Matteo discussed one security function called "selective remote wipe," offered in a solution from Silicon Valley-based Aruba Networks Inc. The Aruba technology will erase sensitive company information from a mobile device if that device is reported lost or stolen. However, it won't wipe away personal data such as documents or photos.
The CommNexus panel included a question and answer session. Audience members tossed around ideas regarding how many security precautions a sales force might be willing to tolerate. They also asked how companies reimburse employee wireless bills, particularly when a salesperson uses their device for personal as well as company calls.
BYOD seems to be a way of doing business that suits the millennial generation.
Tell an older person that their office will have no phone or personal computer, but they can bring their own device, and they might feel at a loss, Matteo said.
But tell it to a millennial, and they are fine with the arrangement.