Northrop Grumman X-47B Performs First Unmanned Carrier Launch
Wednesday, May 15, 2013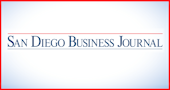 The U.S. Navy announced the first launch of an unmanned aircraft from the deck of an aircraft carrier.
The X-47B demonstration jet, engineered in San Diego by Northrop Grumman, catapulted from the USS George H.W. Bush at 11:18 a.m. on May 14 while off the coast of Virginia.
The Navy said the aircraft executed several planned low approaches to the carrier, and then flew across Chesapeake Bay to land at Naval Air Station Patuxent River, Md. The flight took slightly more than an hour.
Vice Adm. David Buss, the Coronado-based commander of Naval Air Forces, called the launch "a watershed event."
"Today we saw a small, but significant pixel in the future picture of our Navy as we begin integration of unmanned systems into arguably the most complex war fighting environment that exists today: the flight deck of a nuclear-powered aircraft carrier," Buss said.
Northrop Grumman delivered two X-47B aircraft to the Navy for the test program under a six-year, $635.8 million contract. Northrop and General Atomics Aeronautical Systems Inc. plan to bid for a follow-on project, the next-generation unmanned carrier aircraft. Other expected bidders are Boeing and Lockheed Martin.
Following the first catapult launch, Navy officials tested the aircraft by flying it in the space around the carrier, then "handed off" controls of the airplane to a person on the mainland prior to its landing at the Maryland base.
A landing on the pitching deck of an aircraft carrier is scheduled later in the year.
— SDBJ Staff Report