BIOTECHNOLOGY COLUMN
Local Biotech Activity Hints at Sector's Post-Recession Pickup
Monday, May 13, 2013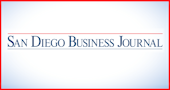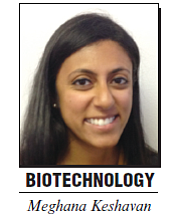 It's been a busy few weeks for San Diego's biotechs. Acquisitions, partnership payouts and a number of IPOs are in the works—all signs that the sector, somewhat sluggish post-recession, is picking up its pace.
Two area pharmaceutical companies have recently filed documents with the U.S. Securities and Exchange Commission, announcing their intent for initial public offerings.
Receptos Inc., a biotech that develops treatments for multiple sclerosis and inflammatory bowel disorders, recently announced a $73 million IPO.
It's offering 5.2 million shares of its common stock at a price of $14 per share, and began trading on the Nasdaq under the ticker symbol RCPT. The offering is expected to close on Tuesday, May 14. Following the offering, the company said it expects a market capitalization of $257 million.
The company's in the midst of a Phase II clinical trial for its drug that treats relapsing multiple sclerosis.
San Diego-based Ambit Biosciences Corp. is also thick in the IPO game and has yet again changed its offering price. The company is offering about $65 million in stock at a price range of $13 to $15 per share.
The company amended its IPO pricing from its April proposal of $86.3 million, and its $57.5 million proposal in February.
The amended prospectus was in part due to the termination of an agreement with Astellas Pharma Inc., a Japanese pharmaceutical company, according to an Ambit spokesman.
In 2009, Ambit Biosciences partnered with Astellas to develop its lead drug candidate, a cancer drug called quizartinib. The drug was in clinical trials in patients with acute myeloid leukemia. Astellas paid an upfront fee of $40 million to collaborate on the drug development.
But despite presenting positive data from the outcomes of a Phase II trial, on March 12, the companies announced that the collaboration will end this September.
This isn't the first time that Ambit Biosciences was interested in going public. In June 2011, the company withdrew its request with the U.S. Securities and Exchange Commission to raise about $86 million through an initial public offering. It said in a regulatory filing that the IPO would have been a discretionary financing, and that the terms available at the time in the marketplace weren't attractive enough to proceed.
• • •
Similarly, Isis Pharmaceuticals Inc. announced that it intends to sell an additional 9 million shares of its common stock in an underwritten public offering. Although shares were down about 5 percent following the announcement, the stock's price has more than doubled in the past year leading up to this latest offering.
Stock for the $1.91 billion market cap company was hovering around $19 a share at press time.
• • •
San Diego medical device maker NuVasive Inc. has acquired one of its main spinal implant suppliers, Dayton, Ohio-based ANC LLC, for $4.5 million.
NuVasive has been working with the company since May 2010. The acquisition will bring the 65 ANC members on board, and the Ohio manufacturer will be renamed NuVasive Manufacturing LLC.
"Bringing portions of our manufacturing in house is a key element of our ongoing commitment to improve operating profitability as we grow toward $1 billion in revenue and beyond," NuVasive Chairman and CEO Alex Lukianov said in a statement.
The company said the acquisition will not affect earnings in the 2013 fiscal year.
Lukianov said the move "will reduce the time from the concept of a new idea to ultimate market introduction," and will help the company integrate the research and development arm of the company with manufacturing.
• • •
San Diego's Arena Pharmaceuticals Inc. will receive $65 million in milestone payments from Japanese pharma company Eisai Inc. after receiving U.S. Drug Enforcement Administration approval of its weight loss drug, Belviq. This approval will allow the drug to be sold on the U.S. market.
The DEA will officially designate Belviq a Schedule IV controlled substance in about a month's time, meaning it has a relatively low potential to be addictive in patients.
Belviq was approved in June 2012 by the U.S Food and Drug Administration — the first anti-obesity drug approved by the FDA since 2000.
Eisai is responsible for the marketing and distribution of Belviq in the U.S.
It is manufactured by Arena in its Switzerland facility, and sells the finished commercial product to Eisai for a purchase price starting at 31.5 percent of Eisai's annual net product sales, the company said in a statement.
Arena is eligible to receive $1.16 billion based on annual net sales levels of Belviq, the company said.
Send any news about locally based health care organizations, biotech and clean-tech to Meghana Keshavan at mkeshavan@sdbj.com. She can be reached at 858-277-6359.