OliverMcMillan Begins Work on Downtown Apartments
Thursday, May 9, 2013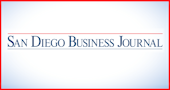 San Diego-based developer OliverMcMillan and its investment partner, Capri Capital Partners of Chicago, recently began construction on The Lofts, a 208-unit apartment building in downtown San Diego.
A statement from the two firms said the development, at 688 13th St. between Market and G streets, is scheduled to be completed within two years. Developers have not disclosed a dollar value of the project.
Ground was broken for the five-story building in downtown's East Village arts district. The project includes 208 mid-rise and ground-level apartments, a 9,000-square-foot roof deck and two ground-level retail spaces of approximately 2,660 square feet apiece.
OliverMcMillan is widening the sidewalk on 13th Street to a total of 22 feet, to create a walkable, pedestrian-friendly environment with landscaping, the statement said.
— SDBJ Staff Report