Novatel Wireless Reports Net Loss of $9.1M for Q1
Thursday, May 9, 2013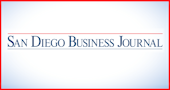 Novatel Wireless Inc., the San Diego maker of wireless solutions for carriers, distributors and retailers, reported first quarter net loss of $9.1 million on revenue of $85.9 million.
That compared with a net loss of $14.9 million on revenue of $70.7 million in the like quarter of 2012.
CEO Peter Leparulo said the quarter showed solid demand for new products in both machine-to-machine and mobile computing, with the former growing 52 percent from the fourth quarter.
The firm is expanding its footprint with existing key customers and had several design wins with industry-leading prospects, Leparulo said.
For the second quarter, Novatel said it expects revenue to finish in a range of $90 million to $98 million, and with non-GAAP losses per share to finish at 13 cents to 6 cents.
Shares of Novatel, traded on Nasdaq under the ticker NVTL, closed down 14 cents on May 7 to $2.68, giving the firm a market capitalization of about $90 million. Its 52-week range was $1.17 to $2.90.
— Mike Allen