Japan's FTC Approves of Pending Acquisition of Cymer
Monday, May 6, 2013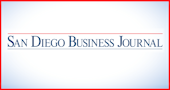 Japan's Fair Trade Commission gave its blessing on the pending acquisition of San Diego-based Cymer Inc. by ASML Holding NV, based in the Netherlands.
Clearance of the transaction was approved by the U.S. Department of Justice, the U.S. Committee on Foreign Investment in the U.S. as well as antitrust agencies in Taiwan, Germany, and Israel. Cymer shareholders also approved the deal with 82 percent voting for it in February.
When the purchase was first announced in October 2012 it was valued at $2.5 billion, and entails cash and stock — $20 per share and 1.15 shares of ASML for each share of Cymer stock.
Cymer, the maker of complex laser equipment used in the manufacture of semiconductors, has about 1,200 full-time equivalent employees including some 900 at its Rancho Bernardo headquarters.
ASML, a provider of lithography systems to the semiconductor industry and Cymer's biggest customer, has 8,625 employees worldwide. ASML said it intends to manage Cymer as an independent business unit and maintain its local office.
Completion of the merger remains subject to closing conditions, and receipt of approval from the government of South Korea. The companies said the deal should close in the first half of 2013.
— SDBJ Staff Report