ENERGY: OBERON'S UNITS PRODUCE FUEL ON-SITE, USING LOCAL SOURCES
Firm's Small Modular Fuel Plants Can 'Sprout Up' Where Needed
Monday, May 6, 2013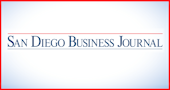 A San Diego clean energy company is making strides in changing the way power plants are set up — by making them modular.
Oberon Fuels Inc. has developed a sort of portable fuel plant — its small-scale, skid-mounted modular units produce about 3,000 to 10,000 gallons of fuel per day. The fuel it produces, called dimethyl ether, can be used as a cleaner substitute for diesel and propane.
The small units — which measure about 10,000 square feet — allow for their flexible, efficient and low-cost deployment to remote locations which could be particularly useful in third-world countries.
The first production unit will be complete this month, the company said.
"The beauty of these units is that they can produce gas from local sources — including various animal or plant waste byproducts found throughout the world," said Rebecca Boudreaux, president of Oberon Fuels. "In Southern California, for instance, there's a large agricultural community with lots of food and animal waste.
With convenient modular facilities, there's less cost to transport feedstock for fuel-making if you can source it regionally."
The company, founded in 2010, has been operating with about $21 million in private funding from angel investors and venture capital firms.
Clean Burning Fuel
The science behind Oberon Fuels is that it converts natural gas or greenhouse "biogases" from animal or plant waste byproducts into a clean burning fuel, called dimethyl ether.
DME, as it's shortened, burns cleaner than diesel while providing improved engine performance.
What makes Oberon unique is its efficient, modular packaging of its plants — and its 90 percent conversion rate of methane into this fuel, Boudreaux said. "What we bring to the table is our innovation in making a small-scale process that can economically convert methane sources to DME."
Boudreaux said it is a particularly attractive fuel because it generates almost no particulate matter and produces ultra-low levels of smog-causing nitrogen oxides, or NOx.
With handling characteristics similar to propane, DME offers the potential to provide an alternative fuel solution that is cost effective, environmentally friendly, and operationally easy to adopt, she said.
Dimethyl ether is not a new finding by any stretch — it has been studied for decades, and has been shown to meet strict emissions standards, and has lower fuel costs than diesel. In 1995, Whiting, Indiana-based oil company Amoco Corp. found in studies that using DME allowed a 95 percent reduction on carbon dioxide emissions — significantly lowering its greenhouse gas output.
"Fuel companies really started getting interested in DME in the early 1990s, because it was recognized as an excellent diesel replacement," Boudreaux said. "But at the time, oil was $16 a barrel, so there weren't the same economic pressures or emissions regulations — there weren't any additional driving forces to get people to consider alternative fuels."
Joint Research and Development
But they're paying attention now.
The company entered a joint research and development agreement in 2011 with Southern California Gas Co., a subsidiary of Sempra Energy, to design and construct the first commercial facility in the U.S. to produce dimethyl ether (DME).
Today, DME is most widely used as an environmentally friendly addition to aerosol products.
China has driven the growth in demand and prompted large plants to be built throughout Asia and the Middle East.
The dimethyl ether produced by Oberon Fuels is slated for large vehicles used in agriculture, trucking and transportation, and construction.
"Fifty-five billion gallons of diesel fuel are consumed annually in the United States, and the trucking industry is looking for cost-effective solutions that meet the rigorous air quality standards and support the common goal of cleaner air," said Hal Snyder, vice president of customer solutions for SoCalGas.
According to the U.S. Department of Transportation, there are nearly 11 million medium- and heavy-duty trucks operating in the United States. Several truck manufacturers have been testing new DME trucks for several years with excellent results, and existing diesel trucks can be retrofitted for DME with only modest modifications, Boudreaux said.
"Using natural gas as a feedstock for DME is just another environmentally beneficial use for natural gas, an abundant, cost effective and domestic fuel," Snyder said. "We see DME as complementary to other natural gas transportation solutions."