Millennium Laboratories Appoints W. Brock Hardaway as CEO
Friday, May 3, 2013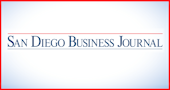 San Diego-based clinical diagnostic lab Millennium Laboratories has appointed health care executive W. Brock Hardaway as its new CEO.
The company's current CEO and founder, James Slattery, will change roles and lead Millennium's board of directors.
The company employs more than 1,000, providing health care professionals with medication monitoring, drug detection and genetic testing services.
Hardaway was previously the executive vice president of operations for Kindred Healthcare, a $6.2 billion health care operator which operates about 225 nursing and rehabilitation centers, as well as 120 long-term acute care hospitals around the country. While there, he oversaw the day-to-day operations of 47 inpatient hospitals with 11,000 employees.
"I am thrilled with the prospects for growth for Millennium Laboratories," Hardaway said in a statement. "The company is working in areas of diagnostics and pharmacogenetics that are changing the landscape of pain and addiction management. My track record of growth in a highly regulated industry will serve the company well into the future as we launch new products and serve more communities with our groundbreaking technology and service offerings."
— SDBJ Staff Report